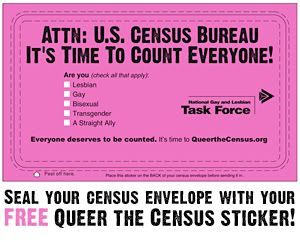 We know it's a little clichéd – but here's what we want to tell the census: We're here. We're queer. And we want you to ask us about it.

It's crazy – the U.S. Census Bureau wants an accurate count of everyone in the country – but there's no question in the survey that asks if you are lesbian, gay, bisexual or transgender.

You read that right: LGBT people are basically invisible in the survey that is supposed to reflect the diversity of America's population – and that's a big problem.

The data collected impacts issues critical to every American – like our health care, our economic stability, and even our safety. And when LGBT people aren't counted, then we also don't count when it comes to services, resources … you name it.

It's past time to Queer the Census!
So what can you do about it?

---
Queer the Census FAQs: