Since I am filling out the form, I'm designating myself Person 1. On the front page of the form I marked my sex, which is female.
My wife is Person 2, so I've marked her relationship to me, Person 1, as "husband or wife". Then I marked her sex as female.


And that's it! I've queered my census form! My wife and I will now be counted as a married lesbian couple!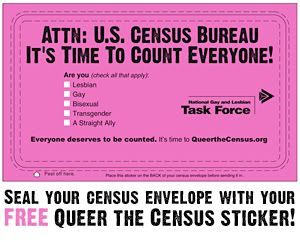 Since I don't have to return the form until April 1st, I'm hanging onto it until my Queer The Census sticker arrives in the mail. I'll stick that on the back of the return envelope because I want to send the message that the 2020 census needs to count all LGBT people, not just the married/partnered ones. Oh, and don't worry, before I mail in the form I'll fill out the other information blanks pictured above – when you all aren't looking 😉
For more information on Queer the Census, check out my previous diary, or better yet go to Our Families Count or Queer the Census.
A final note on confidentiality: Read the flier that comes with your census form. It says "Federal law protects your privacy and keeps your answers confidential. The answers you give on the census form cannot be obtained by law enforcement or tax collection agencies. Your answers cannot be used in court. They cannot be obtained with a Freedom of Information Act (FOIA) request." Go to www.census.gov/2010census and click on "Protecting Your Answers" to learn more.
Cross-posted at Pam's House Blend.