Things are beginning to derail over at the Brown Campaign and one has to wonder if Brown's campaign manager Jim Barnett is in over his head. Scott Brown voted against the Buffett Rule which would have brought tax equity to a structure that is currently placing a heavy burden on the middle class. Scott Brown, barn jacket and all, voted with the billionaires and millionaires and right in line with Mitch McConnell to vote against fairness.
Today, Scott Brown decided that it would be a good idea to attack Elizabeth Warren, who supports the Buffett Rule by asking if she is an "Elitist Hypocrite?" It was not only a press release, but he felt that it was important enough to place it on the front page of his campaign web site.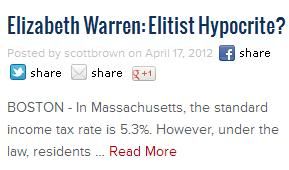 The only thing that I could think of when reading the attack was how desperate it all seemed. The fact of the matter is Brown voted down fairness in the tax structure, something that is supported by voters and by 63% of independents. Instead of telling why he voted the way he did, Brown instead made up some nonsense attack about the voluntary Massachusetts tax rate.
Bottom line it's how you vote Scott, Warren would have voted for the Buffett Rule and you voted against it.
While the pathetic attack doesn't deserve a response, the Warren campaign summed it up nicely:
"The Buffett rule is about making sure that millionaires and billionaires pay their fair share, it's not about funding government through voluntary contributions, so this question misses the key point in this debate – which is not just about economics but about our values"
Scott, instead of dumb attacks, you need to tell us why you feel the middle class should carry the tax burden.