Ward 3 in Malden has 4,353 registered voters.
In the 2015 municipal election, 1,282 folks in Ward 3 came to the polls to vote for mayor, city council, and school committee.
In the 2017 preliminary election, 737 folks in Ward 3 came to the polls to narrow the councillor and school committee field to two candidates.
In the 2016 presidential election, 3,548 folks in Ward 3 came to the polls to vote for president. 2,451 people voted for Hillary Clinton.
So, you're running for school committee in Ward 3 in Malden. How much money do you think you would need to win this seat? Would you believe $11,490.85? That's the amount Mekka Smith reported as her ending balance on her October 20 Campaign Finance Report.  That's a little more than $10 for each and every person who came out to vote in the last municipal election in Ward 3.
What's up with that? Let's see if we can connect some dots. Mekka Smith is listed on the KIPP – Massachusetts charter school website as Chief of Staff. She came to KIPP from Teach for America. According to her KIPP biography:
Mekka Smith joined KIPP Massachusetts in 2016. She is originally from Atlanta, GA, and started teaching in 2007 through Teach For America, where she worked with brilliant first and second grade students in Miami, Florida for five years. Mekka has been actively involved in new teacher development through working at TFA summer institutes in Atlanta, Houston, Philadelphia, Tulsa, and Boston. In 2012 she joined the Teach For America-Massachusetts regional team and spent the next few years coaching teachers in elementary, middle, and high schools as well as supporting alumni to find high impact, school-based roles in local district and charter schools.
And she raised $8,825 between September 3 and October 20. Quite impressive. Where did that money come from? $400 came from Malden. The rest came from:
$1,525 from Boston
$475 from Cambridge
$1,900 from elsewhere in Massachusetts
$1,300 from Georgia. (That's probably family.)
$1,000 from New Jersey
$900 from New York
$750 from California
$200 from Indiana
$100 from D.C., Florida, Maryland
$75 from Illinois.
The contributors include Andrew Balson ($1000) of West Newton, who was also active in the Yes on 2 campaign to remove the cap on charter schools, and Chuck Longfield ($250) of Cambridge who gave $100,000 to the Yes on 2 campaign. Several other contributors are also high profile charter school backers.
Her opponent, Jennifer Marie Spadafora, has $1033.11 in the bank, and raised $2,725 between September 9 and October 27. $1000 of those contributions came from folks with the last name Spadafora. Along with her finances, her biography is a little more typical of a school committee candidate:
Our oldest child, Rene, is a recent graduate of Malden High School, class of 2017. She has chosen to serve her country and has enlisted in the United States Coast Guard. We are also the proud parents of two younger boys, Gino and Angelo, who are both students at the Beebe K-8 School.
Having watched all three of my children advance through the Malden Public School system, I have learned that while budget cuts may at times be inevitable, my focus if elected would be to fight for funding and a financially sound, responsible school budget.
Spadafora was also active with the NO on 2 campaign. Campaigns aren't easy, and it's easy to feel alone when you are being swamped by thousands of dollars in out-of-state contributions from the charter school industry.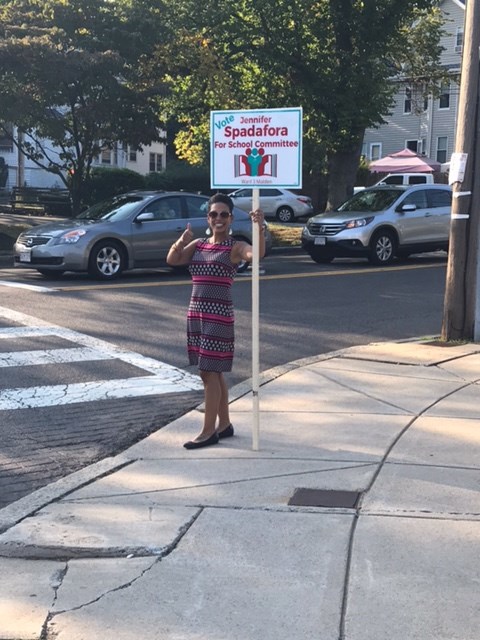 Jennifer Spadifora
Post-script. It gets worse. On November 3, the Mekka Smith finance reports were amended to add another $3,000 of dark money.