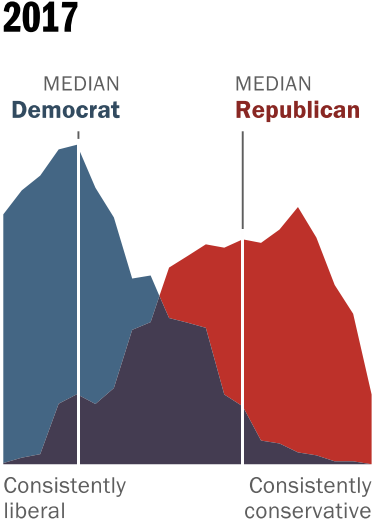 Distribution of Democrats and Republicans in a 10-item scale of political values
A new Pew study is described in an NPR piece published today. While the NPR piece and the Pew study that it describes are studiously neutral, the attitudes of too many Republicans are repulsive to any civilized person.
I'm not talking about the "usual" GOP lies about government, waste, regulations, and so on.
I'm talking about these (from the study):
% who say …
Poor people have it easy because they can get government benefits without doing anything in return
Republicans: 65
Democrats: 18

Blacks who can't get ahead in this country are mostly responsible for their own condition
Republicans: 75
Democrats: 28

Immigrants today are a burden on our country because they take our jobs, housing, and health care
Republicans: 44
Democrats: 12
Take a look at that second item. THAT is sheer, unadulterated RACISM ("Blacks who can't get ahead in this country are mostly responsible for their own condition") that ignores DECADES of research. That racist view is held by SEVENTY FIVE PERCENT of the Republican respondents.
Maybe we can change these attitudes, maybe not. In my view, we MUST first name them as repugnant. These are deplorable attitudes. At least the last is a minority view even among Republicans.
I, for one, am PROUD of my fellow Democrats for rejecting these lies. I'm GLAD that our nation is polarized. America is under siege from mobs of ignorant, racist, and deplorable voters. It is true that those attitudes have been cemented by decades of lies, ignorance, and racism from GOP candidates and from the GOP communications arm — Fox News — that most Republicans rely on for their "news".
It doesn't matter. We MUST start by acknowledging that they are DIFFERENT from us. These voters hold views that are both wrong and revolting.
We MUST change them, not pander to them.