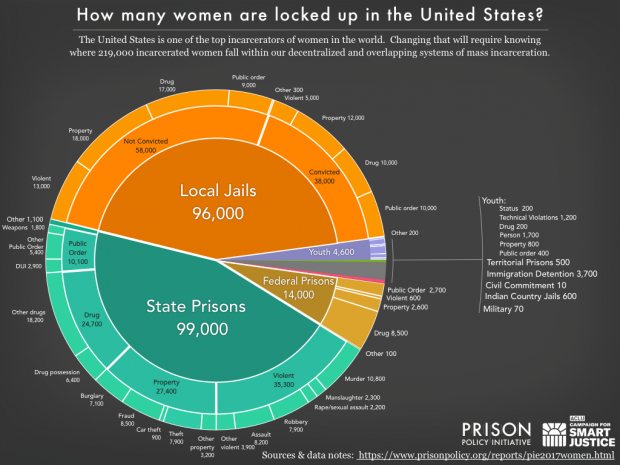 They are incarcerated because they cannot pay bail. And even as to the other 40%, they are more likely to be incarcerated because they cannot afford to pay the fees for probation then because they were dangerous, or sentenced to spend time in a prison or a jail. The research and legwork was done by the Prison Policy Initiative – here is a link to the full report. https://www.prisonpolicy.org/reports/pie2017women.html As the report says, if your annual income is $11,000 a year, you are not going to be able to pay $10,000 cash bail. I will take that further – because some of these women are my clients, or my client's mothers. You are not going to be able to pay $250 or $500 bail.
So what happens to your children? They go into foster care. Besides the reality that the Care and Protection cases filed when a child goes into foster care are up 45% [you read that right], each child in foster care costs $23,000 to the state. And there is a shortage of foster homes. Some foster parents are indeed selfless, mature, and experienced. Some are 22 year old single mothers struggling to get by receiving $500 a month [right, a MONTH] to care for another struggling, maybe incarcerated, mothers traumatized infants, toddlers, elementary school students, and teenagers.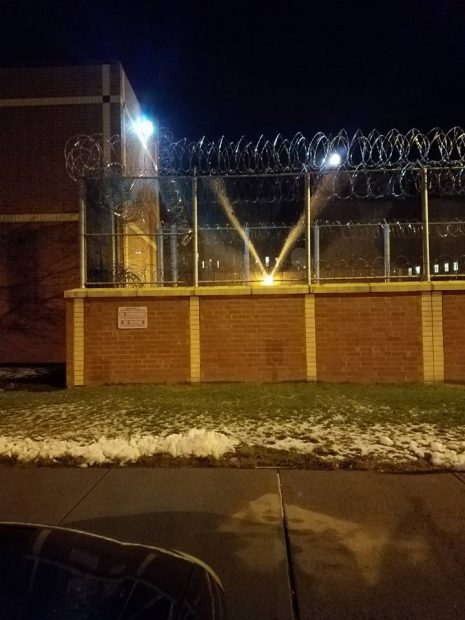 I took this photo last year at a Christmas season visit to an incarcerated client in Framingham Women's Prison. I call it Angels visit mothers everywhere. You can kind of see angel's wings in the barbed wire and search lights. And yes, that client has children, one of whom is autistic and unlikely to understand why his mother is gone.
I have seen children go into foster care because their father is dead, and their mother could not pay a $500 bail; and a year after the mother is out the children are still in foster care because the mother cannot get a job and while the state will pay $23,000 each to house her three children in foster care, there is no money or housing or help with finding work for this mother.
While the Republican party goes forward with trying to further glut the rich at the expense of the working classes [you know, those who live on salaries and work for other people] the destruction of families and children by the so-called criminal justice system and the prison industry continues unabated, including modern debtor's prisons.
Will the recently released Supreme Judicial Court case Care and Protection of Walt help chip away at this injustice by holding that the Department of Children and Families [DCF], aka the State, actually has to follow its statutes and provide help except for four exceptionally heinous circumstances enshrined in law help? ONLY time will tell. I expect not many here are aware of the Walt decision because it affects mostly destitute women and children, and the working poor, who do not have much of a voice. You may not know this, but DCF typically allows a child and parent only one hour a week of time together, and forces supervision even when abuse is not even alleged.
In their summary of Walt, the Committee for Public Counsel Services Website states:
"The decision: The Court rejected DCF's argument that the Juvenile Court can excuse DCF's failure to make reasonable efforts for a reason other than one of the four exceptions. The SJC further held that when a court determines that DCF failed to make reasonable efforts to keep a family together, it can enter orders to hasten the family's reunification. Such orders could require DCF to provide more parenting time to families (when children are placed in foster care, DCF typically allows them to see their parents only one hour per week); enable parents to continue to participate in their children's education and medical care; and mandate the provision of specific services that a family needs in order to be reunified, such as housing assistance.
The SJC also made clear that:
DCF should consider short-term informal custody arrangements as an alternative to removal;
DCF has a continuing obligation to make reasonable efforts after removing a child;
If a parent's circumstances change (at least in a no-reasonable-efforts case), the court should revisit the initial custody order and determine whether it should still stand; and
DCF has an array of services available, and it should provide those services to parents and children who need them.
This is a major victory for CPCS's clients and for other vulnerable families. By requiring DCF to fulfill its legal obligations to keep families together, the Court is also protecting children from a type of harm, often traumatic, that is frequently ignored or discounted in our cases – specifically, the harm caused by the inappropriate use of foster care. Walt also has the potential for helping children for whom removal is appropriate. At a time when the foster care system is operating well beyond its true capacity, ensuring that DCF keeps children at home when they can stay there safely means that scarce foster care resources will be available for children who really need them."
I consider the Walt decision a "must read", and then lets honor the court appointed attorneys who fought the fight for this family, despite meager pay, grudgingly paid by this state. Here is the website from which the summary quote was taken: https://www.publiccounsel.net/blog/2017/11/08/care-and-protection-of-walt/
Here is a link to the decision: [Justicia has it up as both a summary and as a .pdf] https://law.justia.com/cases/massachusetts/supreme-court/2017/sjc-12295.html