On Halloween, I posted a scary little story about a boatload of out-of-state charter school money flooding into a school committee race in Ward 3 in Malden.  (For perspective, let's remember that Ward 3 has 4,353 registered voters.)
It gets worse.
On November 3, the Mekka Smith campaign posted amended Pre-Preliminary and Pre-Election financial reports that added $3,000 of dark money from Leadership for Educational Equity, Washington DC to the reports. Two $1,500 contributions were added, one on August 31, another on September 13, 2017.

In her previous report, she reported $11,490.85 on the filing date. The new report lists $14,490.85 in her account on October 20.
In a state with an annual $1,000 individual contribution limit, and a $500 limit for political action committees, this revelation creates a substantive question about the legality of the campaign's fundraising.
It gets worse. MGL Chapter 55 Section 9 lists the following restrictions on contributions, and warns, "Any individual or candidate, or any person acting on behalf of said individual or candidate, or on behalf of a political committee, who violates any provision of this section shall be punished by imprisonment for not more than one year, or by a fine of not more than one thousand dollars, or both."
Section 9. No individual, candidate or political committee, or person acting on behalf of the individual, candidate or political committee, shall accept a contribution of money from any 1 person or political committee if the aggregate amount contributed in a calendar year exceeds $50 in cash or $100 by money order or bank check, except by a written instrument or by direct deposit pursuant to section 9A. For the purposes of the preceding sentence the term "written instrument" shall mean a check on which the contributor is directly liable or which is written on a personal, escrow, trust, partnership, business or other account which represents or contains the contributor's funds. The term "written instrument" shall also mean for contributions by credit or debit card, a paper record signed by the cardholder or, in the case of such contribution made over the Internet, an electronic record created and transmitted by the cardholder. The term "written instrument" shall not mean a certified check, cashier's check, treasurer's check, registered check, money order, traveler's check or other similar negotiable instrument. The director shall establish reasonable rules and regulations concerning the making of contributions by a written instrument. No individual, candidate, political committee, or person acting on behalf of said individual, candidate, or political committee, shall make an expenditure for an amount exceeding $50 except by check or by credit card in accordance with the following paragraph.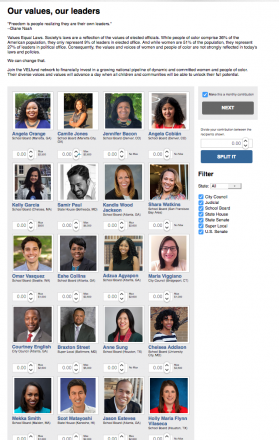 Leadership for Education Equity (LEE) runs a web page soliciting contributions for candidates around the nation, including Mekka Smith, called the Values Equal Laws (VEL) fund. Click on a candidate, donate. If the $3,000 from Leadership for Education Equity came through this portal, it had the effect of creating $3,000 of dark money, hiding the source of these contributions. (Kelly Garcia, a District 7 school committee member from Chelsea and an employee of Excel Academy Charter Schools, is also listed as a beneficiary of the LEE-VEL website.)
Maurice Cunningham, in the WGBH blog Mass Politics Profs, reported that the bulk of Mekka Smith's funding was coming from "the Dark Money/Privatization Industrial Complex." Smith is the chief of staff of charter school operator KIPP Massachusetts, and described the contributions listed on the original finance report.
The money in this case isn't hidden although it does involve a few of the reluctant stars of Families for Excellent School's dark money disclosures from the 2016 charter school ballot question. Andrew Balson of Newton, who invested $100,000 in FES's scheme, gave $1,000 to the Malden candidate. Charles Longfield, who posted $650,000 to FES's secret stash, gave $250 to Ms. Smith. In 2016 he also gave $25,000 to Great Schools Massachusetts and $100,000 to the pro-charter Campaign for Fair Access to Quality Public Schools ballot committee. And along with the Walton family, the Longfield family funds Massachusetts Parents United (see here and here), whose state director occupied the same role for Banned-in-Boston Families for Excellent Schools.
The total amount invested by KIPP, including loans Ms. Smith made to herself, is $3,950. Individuals affiliated with Teach for America (backed in Massachusetts by Strategic Grant Partners) have contributed $1,500. Charter school backer and venture capitalist Arthur Rock of San Francisco contributed $500.
Candidate Smith raised $14,966 as of October 20. Excluding funds she has lent to her own campaign, she has raised $425 from Malden. Thus Malden residents have been outspent by investors from San Francisco, New York, Atlanta, Newton, Cambridge, Boston, and Summit, NJ. And also of course by KIPP and TFA.
Except that Smith now has $3,000 of dark money, which appears to violate the campaign finance laws on multiple dimensions.
A Malden parent filed a complaint with the Massachusetts Office of Campaign and Political Finance. The state is unlikely to adjudicate the complaint before Tuesday's election. That task is up to the voters of Malden, Ward 3.