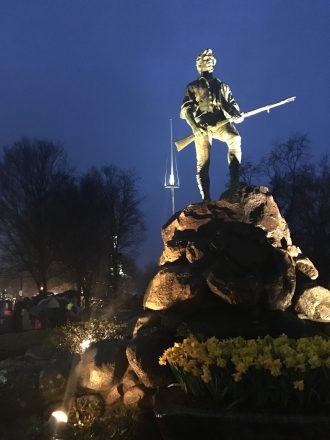 A couple of recent experiences, from which I have tried to gain some inspiration in these dark days:
Rising at really quite-too-early, I went with the family to the Battle of Lexington re-enactment this morning. For all concerned — traffic cops, re-enactors, audience — it took a bit of extra dedication to endure a cold and biting rain.
But the re-enactors and their audience always exhibit a palpable reverence for their subject, in this case a story of adversity and sacrifice. The Battle of Lexington was a rout of the colonists: The British Regulars mowed a few of them down, and continued on to Concord. Eight colonists were killed in Lexington.
Perhaps counter-intuitively, I think events like this are an antidote to uncritical, rah-rah views of our own history. We lost, and some gave their lives, never to know the outcome of the wider conflict. We don't know the future. The wages of goodness are not assured. Our ancestors' society had grievous moral shortcomings, as does ours; the aspiration of a just democracy has never been fulfilled in our republic. And yet everyone who gets up early on Monday morning around April 19 recognizes a bit of the sacrifice that was necessary to get even what we have.
…
Before Friday night's Red Sox game there was a tribute to several of the survivors of the Marathon bombing of 2013. I am generally stoic at such tributes, but this is fairly personal for many of us, even if we weren't directly affected by the bombings. "This is our —-ing city", after all.
But we express our values by what is said, and by what is left unsaid. The presentation emphasized the charitable activities of the respective survivors — supporting the Martin Richard Foundation, eg. — and what meaning they could get out of their recovery from a despicably cruel act. The families of those killed all honor their loved ones with acts of kindness and charity. I couldn't detect a shred of vengefulness or bitterness in the Red Sox's presentation — even though that would be understandable for those who have endured such physical and emotional pain in the last five years.
But largely, they refuse to let that define them. They define themselves by charity, mutual care, love, and peace — what we might call decency.
That is Boston Strong.