I originally shared this on my Congressional campaign Facebook, but given my professional background and that it is not really about MA-3 (frankly, with self-awareness, these issues are of far greater gravity than any Congressional race), I thought it might be of interest here. And also, with the NFL decision, North Korea summit-breakup, Planned Parenthood defunding, EPA kicking out CNN and AP and so much else — it's crucial that we don't let potentially institution and norm-warping actions, like delegitimizing our whole national security establishment, to go unchecked even within our own progressive circles.
"I am running for Congress to help build a better future for the working and middle class of MA-3. However, as a candidate and someone who worked in the Intelligence Community for 13 years, I have to respond to the latest unfounded accusations by the President of a conspiracy against him undertaken within our government. My former colleagues in the Intelligence Community and civil service are bound by oaths of office and professionalism to silence and quiet dignity. Now outside government, I consider it part of my oath to speak, as I have sadly had to before on this matter.
I worked under the Bush, Obama, and Trump Administrations. I worked with people who served since the Kennedy Administration. For 13 years, I worked with people from the agencies most frequently denigrated by the current President– the State Department, CIA, and FBI. And in all those contacts, in all that work, in different agencies and roles, including supporting seniormost national decisionmakers– I never came across a single person, or a person who had known a person, who had worked to undermine the elected representatives of our country or the President, no matter their individual politics. Now, there are those outside the Intelligence Community that have sought to politicize intelligence. And there have been times– amidst many unsung successes– when the integration or quality of intelligence failed, such as 9/11 and the assessment of WMD in Iraq. And there were times where– under the direction of elected political leaders– actions of the Intelligence Community did not meet the test of morality, such as the use of torture in the years following 9/11. But the strict non-partisanship of the analysts, collectors, agents, diplomats, and other personnel of our intel, foreign affairs and federal law enforcement agencies in the performance of their duties has never been compromised in the way the President alleges.
The Intelligence Community, the FBI, the State Department, and the public servants throughout our government do not deserve the bullying attacks by this President — who knows that if any current or former officials seek to defend themselves, he can simply twist their words, or simply make up new words, to serve his own political ends– as he did today with former Director of National Intelligence Clapper. And sadly, the tactic works with some people.
But a tactic can only work for so long.
This tactic is in service of a strategy to discredit opponents and to distract away from corruption, investigations, and most of all from the continued failure of this Administration to make lives any better for working and middle-class people. Those of any political party or none who want a better politics and actual progress for the basic economic and quality of life needs of ordinary people – from better pay to lower health and child care costs and so much more – need to see the strategy for what it is.
That is why we must briskly refute the lie, avoid endless debate within a false frame of reference or repeating his language that seeks to twist the meaning of words and institutions, and move on to have lively debates among people of good will on policies that will help ordinary people in their daily lives. I have faith that we can and will rebuild that kind of politics again– not today or this year, but soon.
For tonight, I stand with my former colleagues, their sense of mission across divisions and despite pressures, which exemplifies the way forward for our politics. I particularly stand with this former colleague, as I was proud to do on other occasions.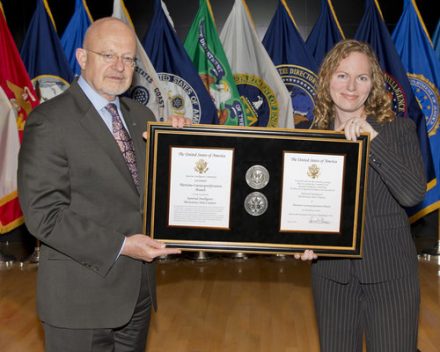 Thank you, Director Clapper, for standing up for our shared profession, for the truth, and for the sake of the integrity of our democracy."