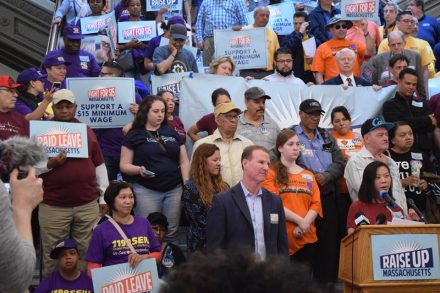 Looks like progressive activists are on the verge of delivering a massive victory for the working class that would avert the need for ballot measures this fall, according to the Boston Globe's Joshua Miller:
The compromise as it stood Tuesday, those people said, would incrementally raise the minimum wage, from $11 to $15 per hour over five years, while at the same time incrementally eliminating time-and-a-half pay on Sundays and holidays. It would also, over time, increase the minimum cash wage that must be paid to tipped employees, such as waitstaff.

The deal would, in the coming years, create a program to provide paid family and medical leave to Massachusetts workers, with most employees eligible for up to 12 weeks of family leave and 20 weeks of medical leave.

And it would institute a permanent sales tax holiday weekend once a year, while leaving the state sales tax at its current 6.25 percent the rest of the time.
Look, if business needs to tell reporters this is a "grand bargain" to make themselves feel like progressive activists are not their daddies, fine. But this feels a lot more like a landslide win for progressives than a "compromise."
Paid family and medical leave and a $15 an hour minimum wage are HUGE wins for every single worker in Massachusetts. Meanwhile, sales tax holidays are a mildly stupid idea (one of the rare times you will find The Green Miles in agreement with the Tax Foundation) but something I would trade away in a heartbeat for paid leave and higher wages.
The deal would be a huge win for Raise Up Massachusetts (and today would be a great day to donate). Every single Democrat in Massachusetts should brag about them and tell voters that if they want more like it, they need to vote Democratic.
So what fight should progressive activists take on next? Pushing for single payer health insurance? A new way to raise revenue now that activist conservative judges blocked the Fair Share Tax? Pushing the conservative House to massively boost clean energy?