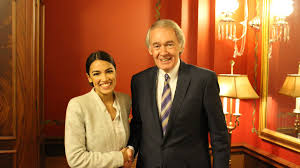 This deserves all the praise we can offer. Finally we're talking about a real policy approach to the looming catastrophe of climate change: Today our junior Senator Ed Markey and the instant-superstar Congresswoman Alexandria Ocasio-Cortez introduce the outlines of a Green New Deal. You can read the whole thing here. It begins with a strong statement of necessity: The dire consequences of our past inaction that we are facing right now, and how much worse things will get. And it addresses not just the threat of climate change, but the ongoing economic dislocation caused by an industrial-policy-by-default, favoring the extremely wealthy at everyone else's expense.
Ocasio-Cortez said in a statement that the plan will create ''unprecedented levels of prosperity and wealth for all while ensuring economic and environmental justice and security.'' She calls for a ''World War II-scale mobilization'' that includes high-quality education and health care, clean air and water and safe, affordable housing.

Answering critics who call the plan unrealistic, Ocasio-Cortez says that when President John F. Kennedy wanted to go to the moon by the end of the 1960s, ''people said it was impossible.'' She also cites Franklin D. Roosevelt's New Deal, Lyndon B. Johnson's Great Society and the interstate highway system begun under Dwight D. Eisenhower as examples of American know-how and capability.
I'll add, to anyone who calls this plan "unrealistic": How do you expect to live on this planet, to continue human civilization, without such a plan? Who's realistic?
Shall we recall the physical, real-life context of this proposal? The last four years are the warmest on record, and two major scientific institutions are predicting the next five will be even hotter. We have suffered enormous losses of life and money, which will get worse and worse, and eventually, irreversible on any time scale we can imagine.
There were 14 weather and climate disasters that cost more than $1 billion, for a total of $91 billion, Arndt said. At least 247 people died in those disasters. That's the fourth-highest number of billion-dollar disasters and the fourth-highest dollar amount, taking inflation into account. The damage included Hurricane Michael's $25 billion tally and $24 billion each from Hurricane Florence and the western wildfires.
Friends in Massachusetts, this is why we put Ed Markey in the Senate. Markey has been on the climate beat since there was one, for thirty-plus years now. He is philosophically progressive, he knows the issue better than anyone, and he knows how to legislate: He wrote the climate legislation that actually passed the House in 2010. This proposal, this moment, is his raison-d'etre, his calling. Buoyed by the arrival of the electric, visionary Ocasio-Cortez, this wily veteran's ship has finally come in. He is old school and tells corny jokes, but let it never be said that he is too old, irrelevant, or out of touch.  Right now, he is the man on the scene, and the whole of planet Earth and human civilization depends on his good work. He is the right person in the right place.
I ask folks in the press to map the proposal onto the ongoing threat of climate catastrophe, not merely the politics of the moment. Voters and politicians can change; the laws of physics do not. There are two questions: Will it save the planet for our children?  and then, Will it pass? Our political press is eager to answer the second question for us before even mentioning the first.
Again, let's be realistic: How can we possibly manage without a Green New Deal? The answer is unthinkable. This is a necessity — and absolutely a mandatory litmus test for 2020 Democratic candidates.