I happened to be in Albany yesterday for the Youth Climate Strike, happening concurrently at 11am all over the world. We showed up just before 11am, and saw hardly anyone there. I've been to protests like that; it can be a little demoralizing. But then we heard a ruckus around the corner … and like the cavalry, in marched about 200 high school kids chanting and shouting.
(Also, there were cookies.)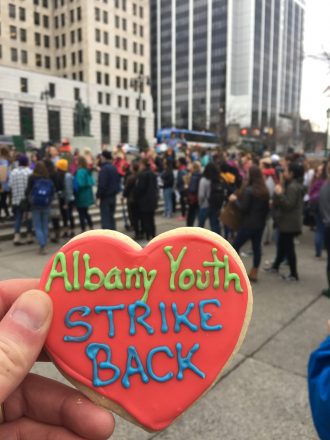 It was apparently a similar scene at the State House in Boston:
Hundreds of young people striking outside the MA State House right now! The energy here is amazing and inspiring! 🌎 (video better with volume on) #ClimateStrike pic.twitter.com/xXWZb8zPzh

— Mass Sierra Club (@MassSierraClub) March 15, 2019
My throat caught a little bit in Albany yesterday. How can it be that we adults have abdicated our responsibilities so gravely, that our kids have to come out on a school day and beg for their futures? It was inspiring — and it was also a fearsome public shaming. We haven't just failed to love our neighbor as ourselves; we've failed to adequately love our own children as much as we love gasoline. And the consequences are upon us, an iniquity visited upon our children for countless generations.
And let there be no question: Our own Governor and legislature continue to dither. Neither our Speaker nor governor will lead on moving Massachusetts to 100% renewable energy by 2045, much less a Green New Deal. Here's the governor's bold, bold leadership on averting catastrophe:
Asked for Baker's position on the aforementioned legislation that would shift Massachusetts to all-renewable energy use by 2045, the spokesman said the governor will "carefully review any legislation that reaches his desk."
So, our governor will "carefully review" if our kids get to live on a habitable planet. Now, he could offer to help write such legislation. Especially in the absence of a positive federal role, his leadership would mean something on a national scale.
Those who imagine that these kids (and Alexandria Ocasio-Cortez, and Ed Markey, and countless climate scientists) are "politically naive"; that pales in comparison to the less-than-innocent blindness of those who imagine that "moderate" half-measures will save us. At great length, repeatedly, and over the course of decades, we have been warned by the best knowledge available to us. These kids do not demonstrate naiveté: They simply do not accept that "political reality" dooms them to a nasty, brutish and short life on a decimated planet; scrapping for food, water, and shelter in a world of hazards and scarcity.
I am exceedingly grateful to, and inspired by, the kids who took yesterday to fight for all of us. I hope every adult leader — in politics and media, at every level — is struck with a moral fear and trembling. We dare not fail at the task ahead of us.