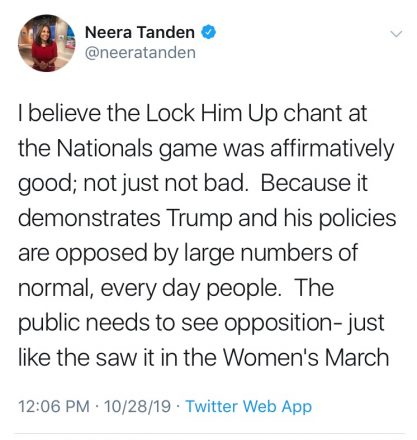 People around the world who are fighting for good, transparent, and democratic governance, rule of law, real elections, and an END to government by strongman and government by bribe, also need to see that average Americans are as disgusted by him as they are.
More importantly, they will see that when he finally appeared in public in front of an audience that was not hand-picked, average Americans booed him to his face. People in various countries who have been ridiculed for years for looking to America as an example need a boost right now. They got it last night.
I'm very familiar with those on the left who think that the US long ago forfeited its right to pretend to be a paragon of, or even an example of democracy worth believing in, because I am of that left.
I marched in Washington against US intervention in Central America. I marched against both Iraq wars.
But whether you know it, admit it, or want to accept it, there are isolated people, small groups, and beleaguered and persecuted political party activists all over this world who, despite Iran in 1953, Guatemala in 1954, Cambodia in 1969, Chile in 1973, despite all of that and more, look to the United States as a beacon of hope that democratic governance with separation of powers and limited powers is possible.
Many also look to places like Europe, Botswana, Costa Rica and other countries with good governance as well, but they also look our way.
I know them. I shook their hands in the former Soviet Union, in Eastern Europe, the Democratic Republic of the Congo, and in Colombia.
They are there. And I am here to tell you that the booing of our Banana Republican would-be despot that occurred last night, meant the world to them.
They are alone. They are powerless. They are beleaguered. But they are unbendable. And they are there.
And they wait.
Our fellow citizens in Washington DC lifted their hearts last night.