Welcome to Jimmy Tingle's Off Broadway.
Meet the Drobnys.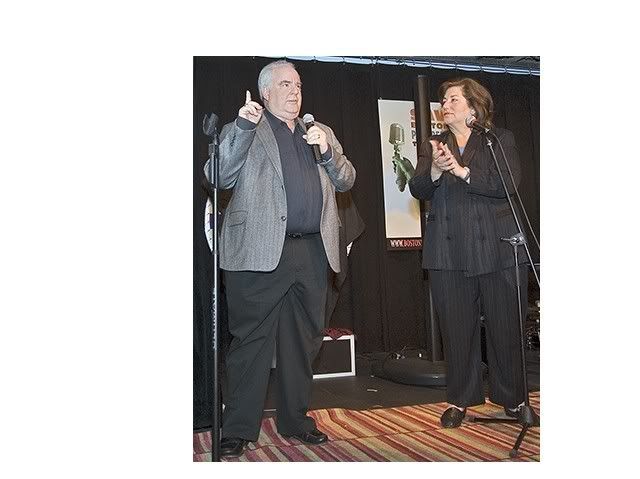 Back in 2002, venture capitalists Anita and Sheldon realized their vision of a liberal talk radio network by forming "AnShell Media" (get it?). They sold the company in 2003, and it was soon renamed "Air America Radio." The contract obligated the Drobnys to sever all ties with the network. They were kept at arm's length from then on, although they were allowed to provide some help in reorganizing the company when it ran into trouble. In October 2006, after Air America filed for Chapter 11, the Drobnys announced the founding of a new network, Nova M (named for Sheldon's father's Polish hometown, Nova Miasto). The network carries Mike Malloy and a number of other personalities. Its flagship station was founded in Phoenix (now there's a metaphor for you!), a community where a previous Air America station had been converted to Christian radio. The station celebrated its first birthday this past month.
As I've mentioned in my previous diaries, Invisible Airwaves Crackle with Life and Who (Almost) Killed Progressive Talk Radio?, Boston's one progressive talk radio outlet was abruptly switched off just before Christmas last year, part of a wave of cancellations across the country that began immediately after the 2006 election. Daily Kos member Robin Bergman didn't take this lying down. She formed a Yahoo! listserv at three in the morning and posted some info on the blogosphere, including here at Daily Kos, and by the end of the day, fifty people were busy discussing what to do next. The first order of business was to circulate a petition. Whether or not listeners in Boston could, like a similar group in Madison, WI, convince Clear Channel to change its mind, the group wanted to have on record just how many devoted listeners the station would be losing. We held meetings and discussed strategy.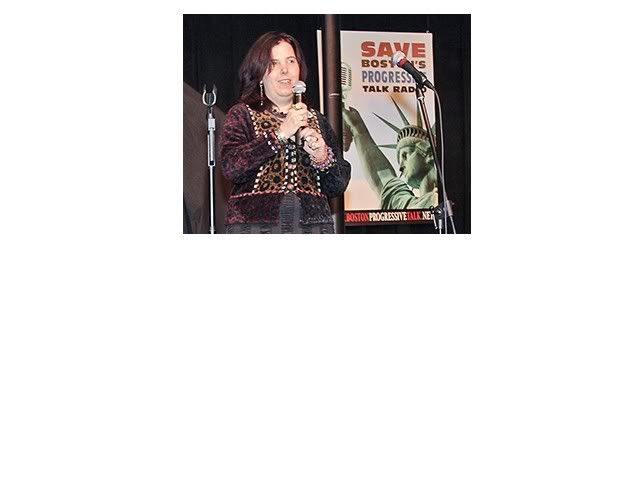 Meanwhile, Jeff Santos, who had been the only local talk show host on the station before it was flipped, had been aggressively investigating opportunities. He was persistent enough that the Drobnys agreed to hire him to help them set up a Nova M station in Boston and then host a daily show on the station. He informed the group of the Drobnys' plans and we agreed to hold a "meet-and-greet" event when they came to town for a business trip.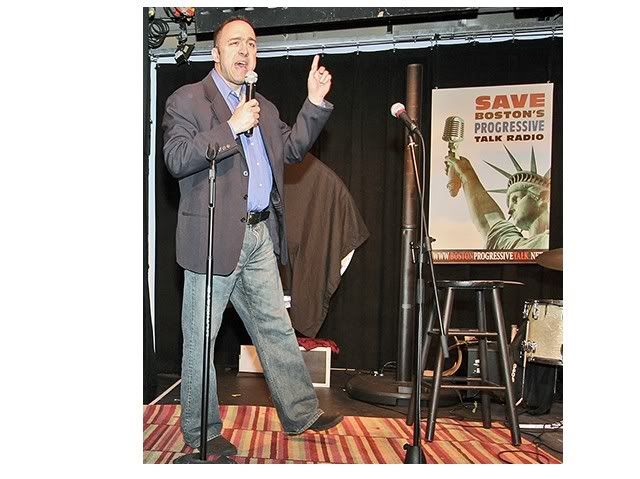 So it was that about two hundred people signed up to come to Jimmy Tingle's theater to meet Sheldon and Anita and fellow Nova M members Joe Trippi and John Zogby and to hear music by the group Jim's Big Ego.
I've been to my share of rallies in the past three and a half years, but never to one that was headlined by two venture capitalists, a campaign manager, and a pollster. I ruminated on this unusual grouping as they spoke. It struck me that we've come to a point in this country where everything is on the rocks — our political system, our economic model, our investigative journalism — and those of us who are trying to save it are forced to reach either up or down. If the crisis makes for strange bedfellows, so be it.
Jeff introduced himself and also Robin, whose story of activism in the wee hours got a warm reception from the crowd. Jeff then brought on John Zogby. He had a nice sense of humor and an original perspective, which might surprise someone who might have expected that he could only speak in percentages. In addition to sitting on the Nova M board, he hosts a show called "Pulse of the Nation." I never had paid much thought to pollsters before then, but it struck me that in fact they do play an important role. Someday our society will have to confront its cognitive dissonance, in which a media cartel can get us to believe that opposition to the war is a minority viewpoint. At that point, it will have to listen to those who actually have been taking the pulse of the nation.
Jimmy Tingle, the owner of the theater where the event was being held, spoke next. His theater features progressive comedy (including his own), so I was surprised by the serious note he struck. He spoke of community, and the way that he hoped that progressive talk would be kind rather than promote the hatred that we hear on conservative radio.
The next "JT", Joe Trippi, was introduced. Of course, there was widespread applause when Jeff mentioned that he had been the campaign manager for Howard Dean. Trippi told the story of the long-ago days when he used to hang out on message boards for gamers and stock traders (another odd set of bedfellows, but hey, it was the old days, before the Internet offered niches for everyone). The group had grown to anticipate the pieces posted by one of their members. Then he disappeared, and it turned out that he had died of a heart attack at the age of 31. (At this point, Trippi almost broke down, and had to compose himself in order to finish.) Someone proposed collecting money to help out his family, and within a short time, hundreds of thousands of dollars had poured in. This episode convinced Trippi of the power of the Internet to bring about the connection that people were craving. He brought that insight to Howard Dean's campaign. He echoed Jimmy Tingle's belief that people also crave the community that progressive talk radio can create.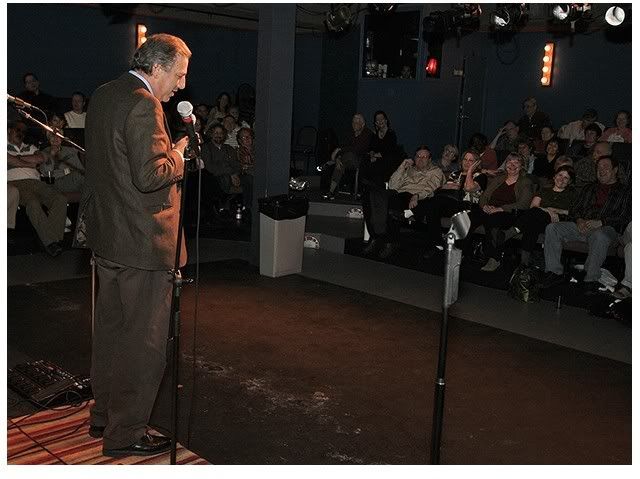 Sheldon Drobny spoke next. He told the crowd that he was tired of our losing elections due to the skewing of the media. He had taken things into his own hands in 2002 by talking to the most powerful Democrats in the country and getting the first progressive radio network in decades off the ground. He said he doesn't want to tell people what they should hear; he wants to know what we want to hear. (That was very refreshing to a crowd upset with Air America's cancellations of popular shows, most recently Sam Seder's.)
Finally, it was Anita Drobny's turn. She spoke of how Phoenix was a real community effort, with people calling each other to inform them of the station's existence. She described the Nova M birthday party a few weeks ago as a "love-in" for listeners, hosts, and staff. I'm sure that was accurate, since I could imagine how members of our group (including myself) would go nuts to find themselves in the same room as Stephanie Miller, Mike Malloy, and Thom Hartmann. She said that the network had such great new people lined up for the network that it was killing her not to be able to tell us their names yet, but they would in a few weeks.
There was some Q&A, and then Jim's Big Ego took the stage again as some filtered out of the theater while others lined up to talk to the Drobnys. Sheldon autographed my copy of his book Road to Air America, and I chatted with a woman who hosts a local show on a college radio station. Then I headed home.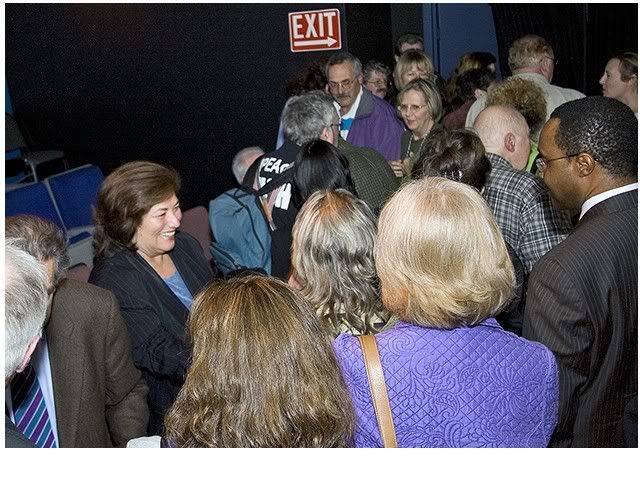 Would you like to stay tuned? Please check out:
– NonStopRadio.com, a website devoted to promoting progressive talk radio across the country
– the dKosopedia Progressive radio stations list
– the dKosopedia Progressive radio timeline
Thanks! You've been a great audience.