First up is Pearl.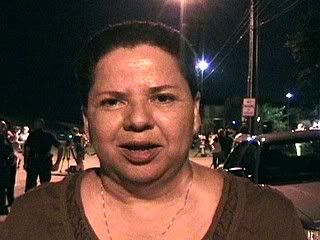 Video: Pearl (5:57)

My name is Pearl Cantrelle and I'm from New Orleans, Louisiana…

I would like to say that the people of New Orleans are a strong group of people. We're always working and coming together as a strong people. And I don't know, I guess we get a sense that people don't know how hard it is right now…

Day to day, Katrina is everyday…

It's an everyday thing. The pain that everybody feels, we support each other and that's what keeps us alive. That's what keeps us going… But there's so much that hasn't been done and so much that needs to be done… You have one house that's repaired right here and there's nothing one either side of that house that's been touched.
We talk about how the grass is up to the roof tops in some areas of the city like NOLA East and the Ninth Ward. So much debris and the debris that used to be actual housing has been cleared from the Ninth Ward, but in its absence the "bad grass" has taken over so many of these lots. NOLA East has not been cleared in the same way.

Pearl continues: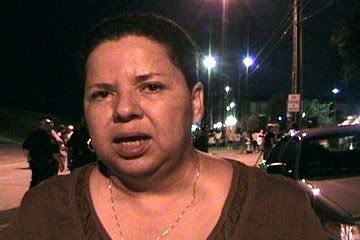 In New Orleans East the city has come through the streets and the streets are clean, but the property owners have not returned… for whatever reason.

They don't have enough money… they have a new life somewhere else and they're trying to sell their property to the city or the state. And these properties are just left there in the middle of nowhere like they're in a jungle…

And yet next door you have someone who has returned and trying to put their lives back together.

It's a hard long process. Unfortunately there were a lot of bad Katrina stories and there a lot of bad contractor stories.

I have heard so many: cash only, I want the money now and you never see them again

That's exactly right, I can tell you personally that I was ripped off for 21 grand. And now I'm spending that much or more to go over what that person did. If they had done the work and taken the money and what they had done was correct that would have been fine. There's so many cases.

I'm just a small, little …

Right just a normal person

And I can't do all the work for myself. I can't get it inspected either … and even the professionals are ripping us off.
Small and little must have new definitions that I am not fully aware of because I know Pearl is telling me nothing but the truth here. When I was first in NOLA for this project back in March 2007, I heard a very amusing anecdote about the original French settlers sent by King Louis.

Katie also told me about the first French settler of New Orleans, Sieur de Bienville. He was sent by the crown, King Louis of France, to assess the swampy region and make a colony out of it. He wrote to the King shortly after he got there:

I have three men that are 5′ 2″ the rest are 4′ 11″ the same height as their moral character.

Please send me more men.
So I'll say it again. Based on the people I met down there (rebuilding on their own) the city they love so dearly and the lives they lost to the storm and the water it looks like King Louis sent some very tall men indeed. In fact – they might have been giants.

Pearl wants to thank all the volunteers:

Thank God we have volunteers from all over the country who have helped us out tremendously.

And I would just like to say to the rest of America, we're struggling. And please don't ever give up on us. Don't abandon us. We need your help. We're working, we're working with each other. There's a lot of sweat equity going on down here…

And you're doing everything that you can here

We're doing everything that we can possibly do to pull it back together and we're just asking you that if you can't be here with us to keep us in your prayers on a daily basis… We really, really need all the help we can get… Whatever it is that you can do, we appreciate it and we really need it.

Thank you for speaking to me again, this what just such a great event

It just so nice, I see so many of my friends out here tonight.

Who knew, New Orleans East is just right across the bridge.

There it is

So if you come down then you might want to check it out.

Please come and see us and spend your money in New Orleans because we could use your tax dollars.
Pearl, Pearl, Pearl. Thank you for speaking to me. Did you know you were a giant? Did you know you were a pioneer? I think of you often and I'm happy that people like you and Margie are back. I'm happy you're back in your home because people like you, determined to remake your communities and your lives in New Orleans, will serve our beloved city well for many generations to come.

Next up is Margie, I interrupted her dinner but Margie didn't mind she had a lot on her mind that night.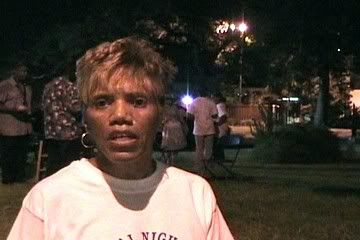 Video: Margie (6:31)

Margie wanted to start right off with the health care situation in New Orleans East, she's been a nurse for thirty years and today is the worst she's seen it, obviously, but she echoes Jennifer's comments here.

My name is Margie Carter and I'm from New Orleans, New Orleans East that is. I've worked in health care for thirty plus years. We have two "buildings" out here and we have no health care.

you had two hospitals out here and now you have none.

None. Nothing. Our school system? We only have two maybe three schools out here. Education out here is poor. And the crime rate is bad.

It's terrible, I know.

Very bad, very bad. And I just feel that the government has not helped us enough. I've rebuilt my home, a lot of people….

On your own?

Yes, my husband and I. It has taken a lot of our savings. My husband is sixty-four years old and you know all the money we've saved…

Your whole life, it went right into Katrina.
We talk about how nice it is for her to back in her rebuilt home, "it's a palace." Margie lose two homes to the storm, she and her husband rebuilt them both with a little money from insurance and their life savings. Today, Margie tells me that she can truly appreciate the simplest of things in life after Katrina. But it was heartbreaking to realize that Margie and her husband got completel
y wiped out even with an insurance settlement.

Right, now we came back in 2006. I slept in a trailer. I lost two homes… And we just got in our home say about April.

Ah, it must be nice

Yes it is. Just to sleep in the bed, but you know we're taxpayers…

You worked your whole life…

Our whole life …

Your whole life then you get wiped out and nobody bats an eyelash.

Nobody but God.
Margie didn't have anything good to say about the Road Home project which is also called the "Road Out of Here" program on the streets down there. But again Margie and her husband did have insurance and did get some money out of them. So there's that at least.

We had insurance … and we got our insurance money, yes we did. I won't mention the company but we did get that. But it wasn't enough because the supply and demand. The prices are so high… My house is built back, but it's not completely furnished. We still thank God we have a bed to sleep in.

It's a palace

It's a palace to me. And I now appreciate the simple pleasures.
I asked Margie what she wanted people to know about her day to day life in her home.

I miss me neighbors, a lot of them are not coming back. Due to the health care and the school system. There's no infrastructure … and there's not enough housing at all. Not at all. And a lot of people can't afford to come back because they're waiting on the government to just help them a little bit.

Depression is very high here. Suicide is very high here. Homelessness is very high here. I also worked on a psych unit at one time before Katrina. I see the people needing a psych unit here… The president came, he comes and he leaves. Why can't he recognize that so many people are in need? They're hurting, mentally they are hurting.

This is why and it does not justify the crime here, but this is why we're having so much crime here because the people are angry. They're bitter.
We turn to the subject of abandonment and the disenfranchisement of the entire region because that's how people really feel down there. They are so grateful for the volunteers and all the support they have received but Margie says that she thinks people in this country are forgetting about her and her neighbors and all those affected by Hurricane Katrina. I tell her that it's because we're not informed about what's going on and she whole heartedly agrees.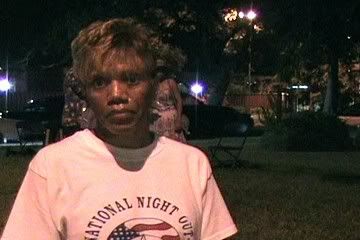 I just feel like, people are forgetting us.

They're not informed

Right, right that's it they're not informed.

And you know what's going to happen this week, they're going to roll the tape and …

Right and that'll be it 'til next year.

That's how I feel.

Listen, we want the young generation to come back, the lifeblood and the vitality… but why would they want to come back? You think about it, why would you want to come back here if there's nothing to offer? No jobs, no future…

Why did you want to come back?

Weeeeelllll, my husband wanted to come back and it's natural in New Orleans… I enjoy the food here, I enjoy the festivities here and we are a close-knit community.

people think that this is just a party town and it's not

No it's not, we're, we're, we're a family. We're a family.

and you're surviving

I survived Katrina.
And then some Margie. You survived Katrina and then some.

And if you haven't satisfied your NOLA bootleg video needs yet for this morning, here's a new viral inspired by Pearl and Margie in particular:

Forget Me Not (4:25)

It's a grassroots effort to rebuild the city. If you can't make it down to spend some money or volunteer, consider a donation to one of the great groups down there helping people like Pearl and Margie reclaim their lives and their dignity from a storm and the subsequent failure of the levees. An area the size of Great Britain was wiped out all along the Gulf Coast from Mobile, AL to Texas by Hurricanes Katrina and then Rita. Get involved. It's going to take a generation. And the French Quarter never flooded, the mom and pop stores and all the entertainment venues are fully open for business, so take Pearl's advice and go on down to be part of the solution.