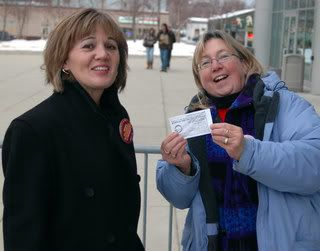 Gail from Burlington, Vermont, proudly displayed her rally ticket, while Linda Brown of Sandown, New Hampshire, looked on.
"I support Obama because I sincerely appreciate the fact he's willing to say he inhaled," said Gail. "It's refreshing to hear a leader tell it like it is, not just what what we want to hear. Being a woman, I'd like to support Hillary. But I think we need change, not the same thing over again."
"I'm leaning Obama; I'm here to hear what he has to say," said Linda. What issues brought her out today?
"The economy is a big issue — the credit crisis. Plus, Oprah is supporting him. I think a lot of Oprah; she wouldn't be supporting him if he didn't have good values."
Amy and Brittany, two students from UNH-Durham, shared a pizza while waiting in line. What kind of pizza?
"Pineapple and mushroom," said Brittany. (Really?) "But it's not mixed together; it's half and half." (That's a relief; for a moment there, it seemed that worlds that should remain forever separate threatened to collide.)
"I've loved Obama ever since his speech at the Democratic National Convention," said Amy. "But to tell you the truth, Oprah's a good pull. I came to hear her. Otherwise, I would have waited for Obama to come to me."
What issues are on Amy's mind? "Opposition to war, the economy — especially the subprime mortgage crisis, and gay rights."
Bhavani Brown and her husband Richard traveled from Windham, New Hampshire. Bhavani, whose name means "Giver of Life" in Hindi, said that she supports Obama because "he's straightforward." "He will address health care, and get us out of an unjust war," she added.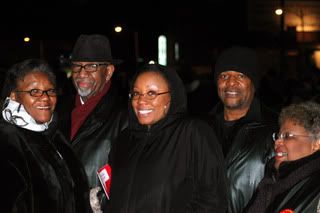 The Hilson and Ross families (Florine and Rev. Arthur L. Hilson, their daughter Antoinette, and Benny and Marra Ross) journeyed from Portsmouth, New Hampshire. What's their number one reason for supporting Obama?
"Health care!" said Marra.
How do they assess Obama's character? "Marvelous," stated Rev. Hilson, who preaches at New Hope Baptist Church in Portsmouth. "Senator Obama has a sense of integrity and a love of his family. He's also an eclectic listener. I mean he listens to a variety of people and he's open to all sides before he makes up his mind."
Inside the arena, dozens of still photographers and 23 video cameras recorded the events. While C-SPAN and other major media provided coverage, the Obama team also granted access to bloggers and student press from colleges and universities across New England.
The crowd energized itself while waiting for the speakers. Ralliers began doing "the wave" — standing and stretching their arms over their heads in an undulating rhythm that coursed around and around the arena. One of those waving an Obama sign was Linda Brown, who had been leaning Obama.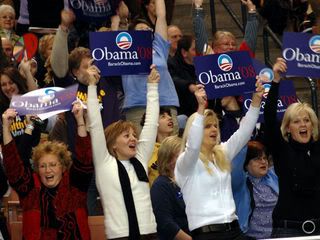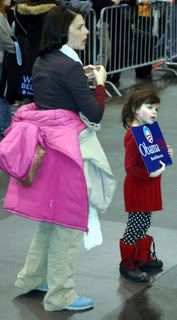 A number of other women and girls also caught the wave of excitement. Among them, a Latina mother — a Mama for Obama — and her daughter, who clutched an Obama '08 sign.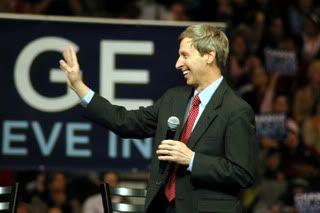 New Hampshire Governor John Lynch welcomed the crowd, asked them to give a warm welcome to Oprah Winfrey, and then introduced Michelle Obama.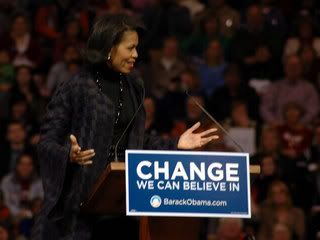 Michelle, a gifted attorney who frequently campaigns for and critiques her husband, seemed relaxed and fired up at the same time.
"Are y'all ready for some change?" cried Michelle. The crowd roared. "Are you hungry for leadership that can inspire us to be a different kind of nation?" New Hampshire voters responded that they were ready for change.
Michelle then introduced Oprah Winfrey, who conveyed her own genuine enthusiasm and fired up the crowd even more.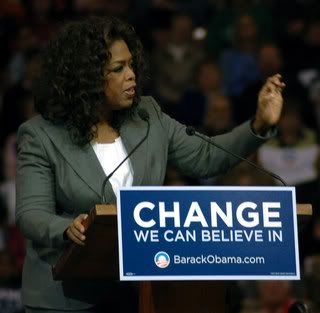 "I feel blessed to be a part of the Obama movement," said Oprah. "I started out last night in Iowa. I was a little nervous. I'm beginning to like this. I'm beginning to like this. I'm beginning to like this because I feel that you are ready for change."
Oprah lauded Senator Obama in her introduction, saying, "I have done my homework and I know for sure that he is going to lead us with compassion and conviction."
"If you keep doing the same thing in the same way, you are going to get the same result," said Oprah. "So now is a time for change we can believe in."
Ringing out again on the theme of clarity and conviction, Oprah said, "Long before it was popular, he was standing with clarity and conviction against the war in Iraq." The crowd's applause was thunderous.
When Obama joined Oprah and Michelle, he began by welcoming, as his special guests, members of the AFL-CIO.
"Verizon Wireless Arena does not have stage hands who are union workers," said Obama. "We should get some unions in here to make sure stage hands are getting a fair shake. Because I believe in working people."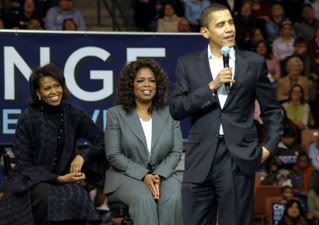 Obama remained loose and relaxed, but focused and in tune with his audience.
One of his biggest applause lines came when he criticized the Bush administration for misleading America into an unjust war with Iraq.
"The only mission that was accomplished was to use fear and falsehood to take this country into a war that never should have been authorized. It should have never been waged."
Obama promised to tell America the hard truth instead of triangulating and poll-testing to generate spin.
"Telling the American people what we think they want to hear instead of what they need to hear — that just won't do."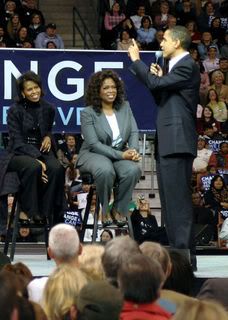 Obama deployed his wry sense of humor effectively to brush off the myth that he had been planning to run for the presidency since his days in kindergarten.
"People are saying I've been planning to run since kindergarten. I was a pretty bright kid, but I don't remember writing any essays in kindergarten. I could write my own name, O-B-A-M-A. I'm going to release my papers from kindergarten," Obama said, to the crowd's delight. "I was experimenting then, coloring beyond the lines."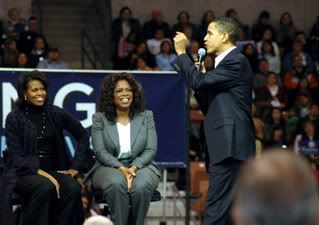 By the end of the rally, Obama held thousands of people, mostly women, spellbound with his eloquence, humor, and vision. If Oprah had lured most of the audience members to the arena, it was Obama who sealed the deal.