The Associated Press has detailed how O'Reilly made a late entrance to the rally, then after Obama finished his address, brusquely laid hands on campaign staffer Marvin Nicholson in order to grab the best camera angle. According to the AP, the Secret Service had to tell O'Reilly to back off.
Obama staffer Marvin Nicholson, a personal aide always at Obama's side during rope line handshakes, said O'Reilly yelled at him to get out of the way of his cameraman's shot. Nicholson said O'Reilly came around the waist-high barricade separating Obama from well-wishers.

"Then he grabbed me with both of his arms and tried to push me out of the way," Nicholson said after the campaign agreed to make him available to reporters.

O'Reilly, interviewed afterward by phone on Fox News, said he tried "to gently remove" Nicholson because he was standing in front of Fox's camera.

"We're sorry we had to have that little confrontation, but no one on this earth is going to block a shot on "The O'Reilly Factor." It is not going to happen," O'Reilly said.

The scene was hard to miss. O'Reilly is about 6-feet-5-inches tall. Nicholson is 6-feet-8-inches tall.

"I told him, 'Sir, I would appreciate it if you wouldn't shove me anymore.' He called me 'low class.' He was pretty upset," Nicholson said.

Secret Service agents assigned to protect Obama ordered O'Reilly back behind the barricade. At that point Obama approached him and extended his hand.
Earlier, the AP reports, O'Reilly had shown up at a campaign event for Senator Hillary Clinton, who had acknowledged him.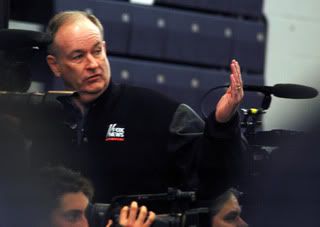 Before O'Reilly allegedly engaged in the shoving match — which I did not witness — he alternated between staring daggers at Senator Obama and turning his back on the podium and jabbering animatedly with his camera crew. This caught my attention, so I took a series of photos, which are included in this online slideshow of the event.
As the photos make clear, almost everyone in the room was having a great time. Except Bill O'Reilly, who looked like he was sucking lemons.