It seems like with each new rebrand of the Baker campaign they start with a new commercial and slogan then come out with new attacks. Past attacks have gone nowhere as the details of the half truths become public knowledge. One might also argue that Baker should instead focus on providing voters honest answers to difficult issues. But alas the Baker campaign decided to go a different route. This time the Baker campaign is going hard after the property tax issue. Today in Milton Baker goes on the attack:
He said the property tax was the tax to cut, and Treasurer Tim Cahill endorsed the governor and together they campaigned and governed for the past four years. It is another broken promise of Deval Patrick and Tim Cahill."

Baker said property taxes have gone up in the last four years by 11 percent.
The Baker campaign then puts up a web ad on property taxes which is gleefully posted on BMG. Interesting, right? But when you look at the Property Tax Information in the DOR website you see a different picture. The fact of the matter is Deval Patrick lowered the rate increase on property tax in each year he has been on office. Mitt Romney's last year property tax increased by 5.9%, Patrick lowered the rate to 4.2% in his first term and in 2010 the rate is now down to 3.3%.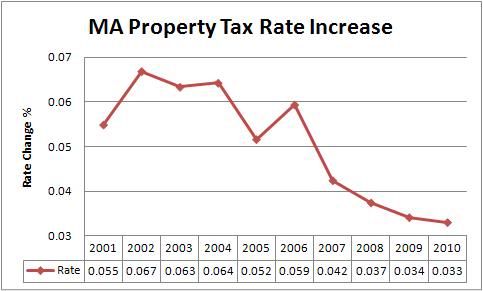 The Patrick campaign put out a fact sheet on property taxes and pointed out that even under the largest recession since the great depression the administration for the first time in 20 years has been able lower the rate change three years in a row.
For the first time in twenty years and amid a global economic recession, property tax increases under the Patrick-Murray administration went down three years in a row – from 4.2% in the first year of the term to 3.3% presently, representing a 22% decrease.
Charlie Baker on the other hand didn't fair as well. Baker as you know was the Secretary of Administration and Finance under Weld and Cellucci, as the head finance guy Baker's property tax averaged an increase of 4.38%, that's higher than any under Patrick. To add insult to injury Baker is attacking Patrick when he is fighting to keep property taxes lower in a global recession with less revenue, Baker on the other hand increased property tax at a higher clip when he was presiding over a $1 billion budget surplus. I don't see how Baker could attack Patrick when it was clear that property tax relief was not a priority when he was managing the budget.