This diary originally started as a comment over on danfromwaltham's diary: Stephen Lynch will go to Washington to stand up, not fit in
I thought better of it, and came to the conclusion to write such a comment would be taking a giant squat on Dan's effort to promote Lynch. Thus, tantamount to 'hijacking.' As we endeavor to play nice, this Primary season, I chose to take my observation and remarks away from Dan's work, placing it here, to stand on it's own.
Please note the closing frame of the recently debuted Lynch ad, as seen on Youtube: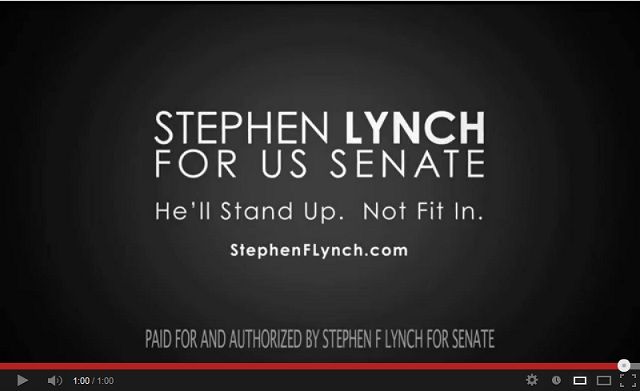 Just yesterday, I provided a link to a Markey tale, from 1976. I'll repost it, so that we can all be on the same page.
…
Ed Markey: The milkman's son who broke the rules
By David B. Hilder, November 22, 1976
… While in his second term in the State House, Markey pushed for passage of a bill to eliminate part-time district court judgeships in Massachusetts. Part-time judgeships were lucrative for judges, who were allowed to maintain private law practices, and for politicians, for whom they were patronage gold mines. It was no surprise, then, when the House leadership, under Speaker Thomas McGee of Lynn, fought against Markey's bill. It passed despite their objections, and McGee, known around the State House for his pettiness, gained his revenge by throwing Markey off the Judiciary Committee, and having his desk moved out into the hall.

All this happened last January, and because of it, Markey received the Massachusetts Bar Association's Legislator of the Year award and was praised in many editorial columns. Looking for a theme for an advertising campaign, Markey's political strategists pounced on the Judiciary Committee incident.

Markey's one television commercial opened with a narration of the desk-in-the-hall scene along with a shot of Markey standing in front of a desk placed incongruously in a State House corridor. At the end of the spot, Markey folded his arms across his chest, looking stern and tough. "They may tell me where to sit," he said, "but nobody tells me where to stand."
I like this Markey story. I makes me feel positive about the person that will go against the grain of the establishment, for the right reason. And, apparently, I'm not alone in this assessment, as Markey effectively rode this story to Congress, in 1976. No doubt, those who know Markey well, will know this story and the power it had. Has? I think it still plays well in 2013. I was 11, back in the day. Yet, growing up in our beloved Commonwealth, I can discern the political courage that Markey mustered. Likely, he will try to assure us that courage has manifested itself in countless ways, since his intial election. I'm listening.
Now, I'm no communications guru, but this feeling I have about Markey, must be coveted amongst any and all politicians. In elected representative government, the elected wishes us to feel that they will do, as we would do, in our stead. My opinion leads me to consider that Lynch's communications guru would seek to displace Markey from this coveted perch, inserting Stephen Lynch.
Thus, "He'll Stand Up. Not Fit In." … Meh. I just heard Scott Brown try the 'Not Fit In' workaround. Echo?
Does anyone else, maybe folks with more 'guru cred,' get the same vibe off of Lynch's newly minted slogan? Or, is this just what happens when certain 'turns of phrase' get reworked?