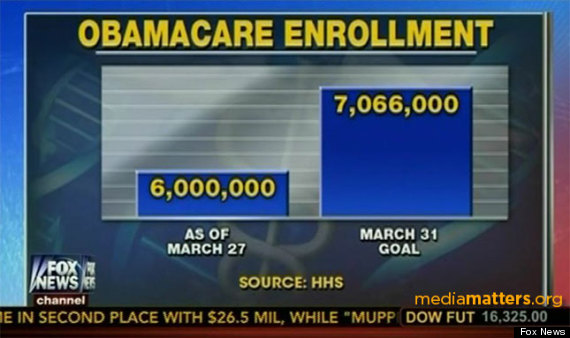 The graphic above was used by Fox "News" to show the "vast" discrepancy between the March 27 Enrollment and the target for March 31st.
Please note that in order for the left bar chart to represent 6 million, then each of the white background lines must represent 2 million. Since there is a difference of over 5 additional white background lines between the left bar and the right bar, then the right bar is really representing over 16 million, but the graphic says it is representing the 7,066,000, the actual March 31st target.
In effect they are trying to demonstrate that 6 mllion is 3/8ths (or 37.5%) of 7.6 million, when in reality it is 84.9858357% of 7.6 million.
Therefore, much like in South Park: I call shenanigans.
Fox has apologized for the "Mistake".