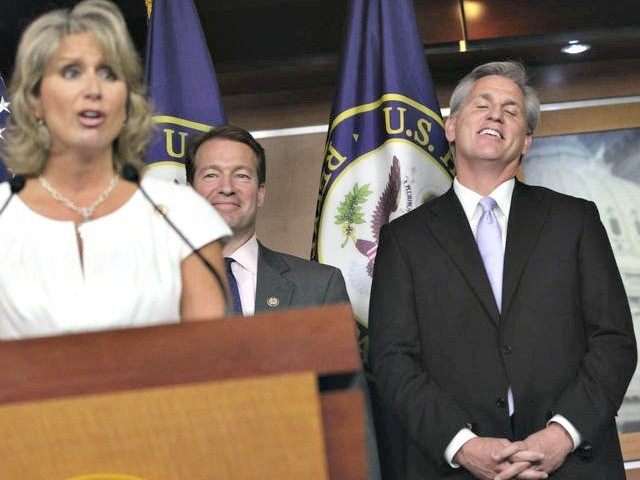 As Michael Calderone reports for Huffington Post, the only question was whether the Beltway media would be successful in helping Kevin McCarthy cover up rumors he's cheated on his wife with a fellow Republican member of Congress:
In the hours before House Majority Leader Kevin McCarthy (R-Calif.) abruptly withdrew his candidacy to be the next speaker of the House, he was sent an email from a conservative activist threatening to expose an alleged affair with a colleague. The subject line: "Kevin, why not resign like Bob Livingston?"

The email, sent just after 8 a.m. on Thursday, came from Steve Baer, a Chicago-based GOP donor known for mass-emailing conservative figures and Republican lawmakers. It was addressed to McCarthy and numerous others, including the personal account of Rep. Renee Ellmers (R-N.C.), who conservative media sites have suggested is tied romantically to McCarthy.

McCarthy has brushed off the affair allegation. After announcing that he would not seek the speaker's post on Thursday, he was asked about Wednesday's cryptic letter from Rep. Walter Jones (R-N.C.), which asked that "any candidate for speaker of the House, majority leader, and majority whip withdraw himself from the leadership election if there are any misdeeds he has committed since joining Congress that will embarrass himself, the Republican conference, and the House of Representatives if they become public."
In 1998, Speaker-elect Bob Livingston quit Congress because Larry Flynt was about to reveal he cheated on his wife at the same time House Republicans were trying to impeach President Clinton for cheating on his wife. Add in former Speakers Newt Gingrich (cheated on & divorced first wife while she battled cancer) and Dennis Hastert (accused of molesting boy while he was a high school teacher) and the record of "family values" House Republicans in recent years is sordid and scandalous.
In the big picture, what's most outrageous is that every Hillary Clinton​ email is analyzed on-air in hope of finding some shred of scandal, but those same reporters have been covering up rumors of two Republicans possibly cheating on their spouses with each other. "Liberal" media? If media actively had a thumb on the scale for Republicans, how would that look different from what's going on now?