After the Republicans pulled Trumpcare last March, I looked at the challenge faced when the Speaker of the House viewed himself as an uber-Majority Leader rather than an officer of the entire house.
The New York Times reported last March on the Republican members of Congress who were declared as opposed to Trumpcare. It was a split between the Freedom Caucus and the moderates who brought the bill down in March.
How did they get the reluctant voters on board? They seduced the Freedom Caucus. This map shows the Republican representatives who were identified as NO in March, but voted YES on May 4. The color codes: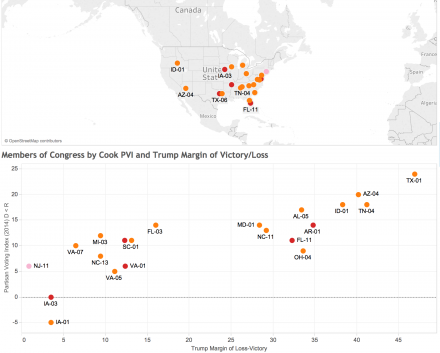 Orange – Freedom Caucus
Red – Republican
Pink – Moderate Republicans
When you look at the bottom chart, you see the Republican representatives who bought religion. They skew to the right (higher margin of victory for Trump) and higher (higher Republican score on the Cook PVI).
This is a significant contrast to the Republicans who were opposed to Trumpcare in March and voted no on May 4. When you look at these folks, the chart has lots more pink dots and they represented districts that were further to the left.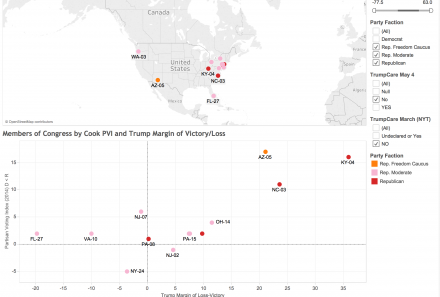 The graphs are produced using Tableau (interactive display below), and you can filter by party or by the NY Times faction among the Republicans. You can filter by reported vote in March, actual vote in May, and by Cook PVI and Trump margin of victory.
I think it is a fun toy, and I hope you will enjoy playing with the data.