It's not about the money," Rosenberg said.
-Senate President Stanley Rosenberg (D-Amherst)
There's someone who doesn't love a high speed train.
Or more precisely, the idea of a high speed train.
As Masslive reports, this is the third time in three years that Senator Eric Lesser's proposal for a study (a study, mind you, not a plan) has been spiked.
Not for lack of support.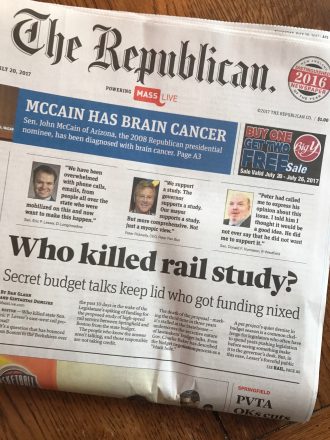 The study proposal has garnered support across the state,  at different levels of government, and between parties. Sen. Elizabeth Warren, U.S. Reps Seth Moulton, Richard Neal, and Jim McGovern have all endorsed Lesser's proposal. So have the entire state senate (38-0) and the Greater Boston Chamber of Commerce.
But the study was killed in the committee that reconciled the house and senate versions of the state budget.
Last year, it was Governor Charlie Baker, lobbied by Peter Pan bus magnate  Peter "Pickles" Picknelly, who killed it. As Masslive notes, "Tensions with public rail are not new for Peter Pan. His father, Peter L. Picknelly, criticized Congress for "wasting money" to subsidize Amtrak rail service in 1972." Buses, particularly those emblazoned with the boy who never grew up, provide the only mass transit from Western Massachusetts to Boston.
Picknelly claims he didn't lobby against the proposal this year, though he admits to speaking with Sen. Donald Humason (R-Westfield) about it. Humason, however, voted to fund the proposal and joined Lesser  on a "whistle stop tour," taking a commuter rail from Boston to Framingham and then driving the rest of the way to Springfield's Union Station, with stops along the way in Worcester and Palmer, to highlight the need for high speed rail. Reading Pickles' lobbying denials, however, sound a bit like Donald Trump's claims that he has no business with Russia.
The proposal was killed in the secretive conference committee negotiating the house and senate versions of the bill. This much we know. The questions of who killed it and why remain.
Conference committee members aren't talking, but Senate President Stan Rosenberg says the killing of the feasibility study was not because of a funding issue, noting the study would have been a small part of the $40.2 billion budget. "We have to get to the bottom of why we're having problems getting this study done," he said.
Picknelly's denials to the contrary, smart money is betting he's the provided the motivation for killing the study. But someone in the house was carrying water for him.
Does anyone know if ML Strategies consults for Peter Pan Bus Lines?