On April 16, 1945, Jackie Robinson was among three Negro League stars who "tried out" for the Red Sox at Fenway Park. We don't know for sure if it was Tom Yawkey, or someone else in the front office, or anyone at all yelled the disgusting words, "Get the niggers off the field!" Regardless of the words, the indisputable fact was there was no place for Jackie Robinson, Sam Jethroe, or Marvin Williams in the Red Sox clubhouse. There was no place for these three Negro League stars, or any black player, on the Red Sox roster until Pumpsie Green integrated the team 14 years later.
This is a disgraceful history, and Red Sox owners must be commended for seeking to purge their street address of the Yawkey name. The City of Boston, which has jurisdiction over street names, should embrace this call, and dispatch a public works crew with a new set of street signs for the former Jersey Street.
The only thing holding this effort back is the question of a new name. Some folks have suggested naming the street for David Ortiz, but that's been done and I think the street name needs to go beyond the joys of a World Series win with a diverse team of local heroes. The new name for this stretch of Jersey Street should go back to 1945, go back to an obvious and hateful wrong, and symbolically make a small, belated attempt at acknowledging the mistakes of the past.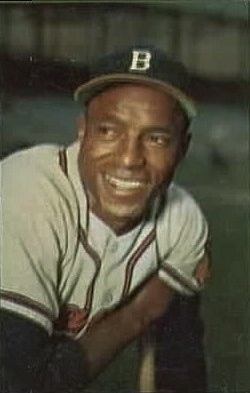 There was no place for Jackie Robinson in Fenway Park? Renaming the street Jackie Robinson Place would reverse that, with every letter to Fenway Park going to Jackie Robinson Place. Or, what may be even more fitting, would be to name the street Sam Jethroe Place. Jethroe was the first black player with the Boston Braves, and (at age 30-something) the 1950 National League Rookie of the Year.
Sam Jethroe is a part of Boston history. Our pioneer of major league integration, who went on to fight the injustice of Major League Baseball's denial of pensions to players who lost part of their playing careers due to bigotry and discrimination.
For those who object to removing the Yawkey name on Jersey Street because the Yawkey family were charitable benefactors in the city, let those contributions reflect the name of the contributor. Let's not honor the bigotry that prevented championship banners from being hung at Fenway Park.
Sam Jethroe Place sounds good to me.