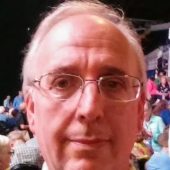 While a lot of the political world rotates around what happens in Boston, here on Cape Cod, we are looking to make some significant changes and holds on our State House delegation. Our first term state senator, Julian Cyr, has a tough re-election fight ahead. Senator Cyr has made a tremendous impact during his initial term and we will fight hard and win to hold that seat. Most of the House delegation on this side of the bridge is GOP, save for Representative Sarah Peake, who is currently unopposed. Cape Democrats are looking to get challengers in all those races.
And that's where I come in. Two years ago, I lived in Rep. Peake's district, as her district includes 1 of the 3 precincts in Brewster, I was incredulous that in a presidential year, we had no one to run against the incumbent in First Barnstable. I moved into First Barnstable about a year and a half ago. Having talked to many people about the idea of running, I filed papers a couple weeks ago to do just that. It simply is not the time to sit one out.
There will be, at this point, a Democratic primary here in the First. I intend on running hard and running on the idea that we want and deserve a government that reflects the best of us and our communities. The Baker Republicanism is to be a likable sort, fly under the radar, not really lead any significant initiatives or make waves. That's not enough, that's not our best.
There will be clear distinctions for voters to choose from. I have been vocal in support of the Fight for $15, the Fair Share Amendment, Paid Family Medical Leave and Safe Patient Limits. We have a significant gap in providing affordable housing on Cape Cod, and need someone willing to be a leader in that area. We need to push harder on environmental issues and carbon emissions. My focus will be on these and other issues that are critical to the people in First Barnstable. When the Governor tries to veto funding from the Department of Environmental Affairs, First Barnstable doesn't need to have someone voting to sustain those cuts. When the Governor tries to cut $1.3 million from After School and Out of School programs, First Barnstable does not need someone voting in agreement with that cut. Those votes and issues are just a few examples of what I believe will be a clear choice in this district.
I've been humbled and fortunate in the support I have received in these first couple of weeks. It just makes me want to work harder to be a part of the national tide to turn more and more local seats Blue. Please visit my campaign website for more information. Thanks for taking the time to read my post.
Steve Leibowitz