Jen and I were delegates to the #demvention last night and today, and what a great time we had!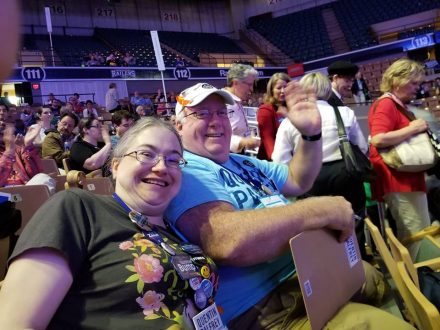 Last night we were treated to four fantastic speeches from four great leaders: Suzanne Bump, Deb Goldberg, Maura Healey and Elizabeth Warren. I couldn't be prouder of the Commonwealth that produced these four incredible women, and the reason that they are unopposed in this election was plain for everyone to see. Senator Warren is fired up and ready to take on the next six years of her fight for us, and I'll be knocking on doors for her this year.
I'm happy to say that my preferred candidates garnered the most votes in all three contested races. While I like Bob Massie a lot, I was really torn between Jay Gonzalez and Setti Warren, so my mind was made up for me when Setti dropped out of the race – Jay picked up 70% of the vote today, mine included. After Jay attended one of our Drinking Liberally chapter meetings, he appeared on my local access cable show – if you have an hour, this is not a bad way to spend it:
We ran into Setti Warren and his wife – told him that we hoped we'd see him again in a state-wide race.
Quentin Palfrey came to one of our local (Milford) DTC meetings, and he appeared on my TV show as well (look below), and he came to a meeting of our local Drinking Liberally chapter. I agreed to whip my district for him, and we won it 48-31. As usual, I have a souvenir t-shirt that's too small for me – Jen's going to love it…
I've seen Josh Zakim at a number of events this year, and he called me and asked for my support. Bill Galvin didn't do that. I was already thinking it was time for a fresh voice in that office, and I was happy to support Josh today – he won W&N 49-30.
Auditor Bump also appeared on my show several years ago, and she wants to come back soon, so I'll be getting a repeat visit form her – here's that episode if you'd like to check it out:
Lastly, we have Tom Merolli running for state senate from our district, Worcester and Norfolk. The incumbent is Ryan Fattman, who continues to seek to divide Americans with Trumpian tactics, most recently with an appearance at Milford Town Hall with representatives from the Center for Immigration Studies, which is listed as a hate group by the SPLC. If you could show Tom a little love at my ActBlue link, that would be awesome:
And, like the last time I posted here, thanks Christopher for kicking me in the pants when I ran into you at the convention! Who else was there, and what were your impressions?