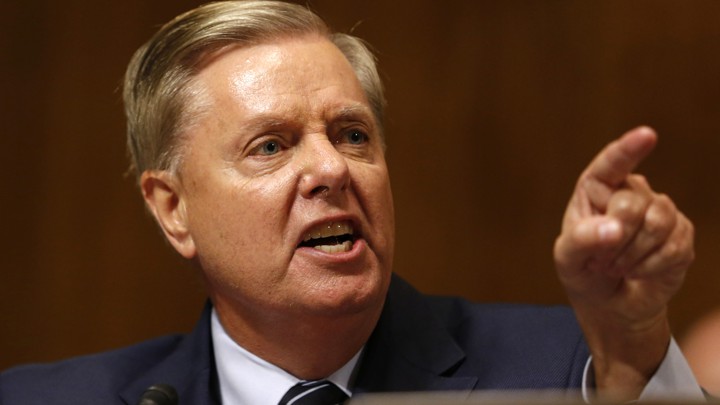 Lindsey Graham
CNN is reporting today that Lindsey Graham is calling for Donald Trump to seize emergency powers (emphasis mine):
South Carolina GOP Sen. Lindsey Graham issued a statement Thursday calling for President Donald Trump to invoke national emergency powers to fund his border wall.

"Speaker (Nancy) Pelosi's refusal to negotiate on funding for a border wall/barrier — even if the government were to be reopened — virtually ends the congressional path to funding for a border wall/barrier," Graham said in a statement. "It is time for President Trump to use emergency powers to fund the construction of a border wall/barrier."

The statement from the key Trump ally came shortly after Graham said efforts to forge a deal with congressional Democrats had fallen flat.

…

Graham seemed to acknowledge the uncertainty around the move in his statement, saying, "I hope it works."
"I hope it works". Seriously. From a sitting duly-elected Senator, calling for a demented thug to seize unlimited power.
"I hope it works".
The GOP/Trumpist Collaborators now demand that extraordinary executive power, with little or no congressional or judicial oversight, be handed to an out-of-control, insecure, petulant, and deeply corrupt puppet of Russian organized crime and Vladimir Putin. Mr. Graham joins the Moscow Eight who celebrated the most recent Independence Day in Moscow.
What, pray tell, is supposed to happen when Mr. Trump uses his newly-granted emergency power to silence the "fake news" of MSNBC and CNN? How long before he and his supporters begin seizing bank accounts?
Our government is in the hands of Russian stooges. Our much-vaunted "checks and balances" have been shredded by GOP Collaborators who are falling over themselves in their obeisance to our American Führer.
Where is our media? Where are the riots in the street, demanding that our freedoms be protected? Where are the "heroes" that we so love to worship? We shut down Boston to party for Tom Brady or the Red Sox — our priorities look pretty clear to me.
How much air time will the abrupt termination of ALL investigations receive when Mr. Trump is pulling the triggers of the nice new weapons our Collaborators just gave him?
When do the Allies arrive, liberate the nation, and save the world for freedom and democracy?
"I hope it works."
I tremble at the prospect of what these thugs mean by "works".