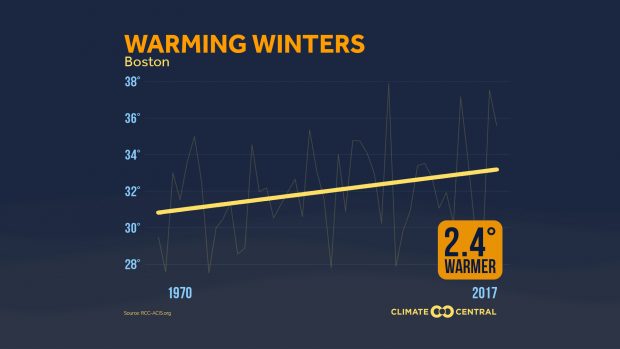 Through January 17, Logan Airport has its least snow on record dating back to 1936. The Boston Globe story covering this, unbelievably, didn't even mention of global warming. Here's our current list of winters with the first inch of snow coming latest in the season:
Feb. 14, 2007
Jan. 29, 1928
Jan. 18 (??), 2019
Jan. 17, 2016
Jan. 16, 2012
In 140 years of record-keeping, four of the five latest first 1″ snows have come in the last 12 years. One Boston TV station asked its meteorologists to guess the date of our first snow and all were wrong, guessing way too early. Are they paying attention to our climate trends?
One look at our snow records – both low and high – shows how Boston winters are trending towards extremes. Boston winters have warmed 2.4 degrees F in just the last 50 years, according to Climate Central. Warming affects snow in weird ways. It turns some snowstorms into rain. But warmer ocean water adds fuel to blizzards and nor'easters, and warmer air can hold more moisture. "As long as it stays below freezing, the snow dumps are bigger, but the snow season shrinks at both ends of winter," as IFLscience puts it.
Studies show rapid Artic warming and melting polar ice are increasing the frequency of blizzards and nor'easters. Six of our ten biggest snowstorms on record have come since 1997, with three of the top seven in just this decade – again, that's over 140 years of record keeping. Look at annual snowfall totals and you'll see a similar trend – four of the five snowiest winters have come in the last 25 years:
2014-15 (108.6″)
1995-95 (107.6″)
1993-94 (96.3″)
1947-48 (89.2″)
2004-05 (86.6″)
So far, January is 3.8 degrees F above the historic average in Boston and December was 2.6 degrees above normal. As this weekend's nor'easter approaches, it will find extremely warm water waiting off New England's coast, a puddle of fuel waiting for a storm's match.
Massachusetts centrists' response to this is to say … but can't we just build a little more climate-disrupting fossil fuel infrastructure? A few more fracked gas pipelines and compressor stations?
At a time when climate scientists say we need to be cutting carbon pollution as rapidly as possible to avert catastrophe, aruging for new fossil fuel infrastructure is like guests in the ballroom of the Titanic trying to negotiate with the rising water for just a little more time to listen to the music.