As draconian abortion bans have moved through legislatures in Alabama, Georgia, Missouri and Ohio in recent weeks, I've seen countless social media posts over the last few days urging women to rally and men to get off the bench.
The problem with this strategy is that women are no more likely to support women's right to choose than men.
This is just one poll but you'll find similar results across countless other polls. The divide on a woman's right to choose isn't down gender lines. Men and women almost always poll within a few points of each other: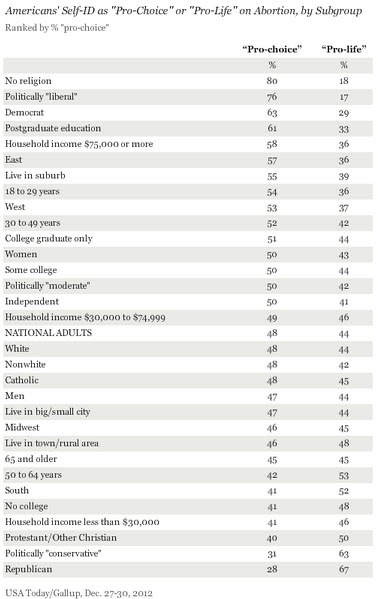 The non-religious, progressives, and Democrats – these are your allies in support of a woman's right to control her body, her health, and her reproductive choices.
Republicans, conservatives, and evangelical Christians are the most anti-abortion, the biggest enemies of women's rights.
Obviously banning women's health services harms women more than it harms men. And you can make a very good case that the lack of a clear gender divide in these polls reflects patriarchal politics and a society that often imposes male-oriented views on women. (I once attended an evangelical Christian wedding where the vows included "the wife submits to husband as both submit to God." They've since divorced.)
But – looking at American voters as they are right now – if you're looking to win the fight for a woman's right to choose, your political strategy should not assume women are your allies and men are your enemies.