This is happening #masen #climateforum with @EdMarkey and @ShannonForMA , followed in by a void exactly the size and shape of @joekennedy pic.twitter.com/VgUp6glTQM

— Blue Mass Group (@bluemassgroup) November 11, 2019
The US Senate candidate's Climate Forum happened last night at Stonehill College, with Ed Markey and challenger Shannon Liss-Riordan — and a void the precise shape and size of Joe Kennedy III. (There was no empty chair.) Here's a fine run-down of the event; here's another from the terrific crew at MassLive.
And you can watch it here — starts at about 33:00 — thanks to Stonehill for recording the event:
Markey was utterly in command, completely fluid and not once resorting to canned talking points — because he doesn't need them. Shannon Liss-Riordan was very earnest and well-informed; against pretty much any other congressperson or candidate it would have been a very good showing. She's for real.
But you know, this is Markey's life's work.
One of the differences she tried to pry open is the absence of a carbon tax in the Green New Deal framework: How are we going to pay for all of the initiatives? So it seemed that she endorses the cap-and-invest form of a carbon tax, with which I wholeheartedly agree. Markey has a more holistic version of how to make climate action happen, which involves every last area of the economy: mandates, tax structures, and incentives — evolutions that are already happening or close at hand, in cars, electrical generation, and building. He repeatedly invoked the transformative potential of a Green Bank to give low interest loans for sustainability.
Liss-Riordan straightforwardly backed Elizabeth Warren's promise to ban fracking. Markey was a little softer on that, insisting that innovation, regulation, and the plummeting costs of renewables will put gas out of business in short order anyway. I support Warren's proposal — and I believe Markey does too — but in reality Markey's more holistic approach is more likely what we'd end up with.
If there was true new-news, it's that Markey endorsed getting rid of the filibuster if necessary to pass the Green New Deal. I don't think he'd said that yet.
Here, I think, is the heart of the whole debate: Markey answering the question, How are things different now from 2009-10? [This starts around  55:00 in the YouTube video above.]
In less than a year, when we remove Donald Trump from the White House and flip the Senate, we will have a Green New Deal. We are in a moment led by our young people. #BlueWave #MAClimateDebate #GreenNewDeal pic.twitter.com/K4rrny0QVh

— Ed Markey (@EdMarkey) November 11, 2019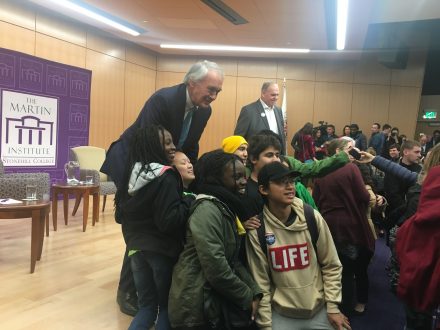 The difference is in grassroots energy. We have it now; we didn't have it then. I remember, with immense regret, how little grassroots interest and energy there was to save the world — even as we poured into the streets, into the Boston Common, for health care expansion. We needed both; we got half of one, kind of. Perhaps inevitably, things are different now, since the reality is that much more bleak. Climate change is the defining issue among young folks; and they were very present and vocal. Sen. Markey gave them a shout-out, and they shouted back.
Again, again … I genuinely regret that Joe Kennedy wasn't there. I don't deny there's always some amount of gamesmanship with debate-scheduling, but Joe could have called the bluff, showed up, and said some eloquent, credible things. He wasn't going to compete with Markey up there. I was never going to vote for him, but he could have blunted my hostility. He could have thrown us a bone. Instead we got a finger in the eye: I don't need you. Well, the feeling is mutual.
Never mind that. Ed Markey is your guy to write the laws that will save our future. He was enthusiastic, charged up, positive, and in his element — and the crowd was clearly amped up with him. I'll look at this as an opportunity: If Markey is able to hold off a young Kennedy, then that will show the power of an idea — the Green New Deal — whose time has truly come.
We've got 419 days until a new Congress is inaugurated.