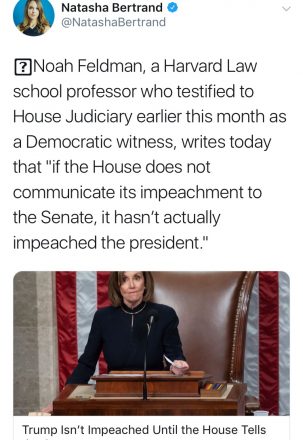 This Feldman opinion is interesting…in a bad way.
On the other hand, as far as constitutional scholars go, Laurence Tribe trumps Noah Feldman. Nonetheless, this could be damaging in any Supreme Court case, should one ultimately be possible. What is the immediate effect? This could take some leverage from Schumer and Pelosi.
To me, Feldman's critique is fatally flawed in that it denies a crucial reality: the House vote did, in fact, occur, and it is the House, NOT the Senate, that is given the power to impeach.
The vote occurred. It is an inescapable fact. As inescapable as the language in the Constitution that assigns the sole power of impeachment to the House, not the Senate.