When it comes to Republican-led saber-rattling, many Democrats make the misstep of saying the Republicans are right in principle but wrong in practice. You'll recall plenty of Democrats who buried their opposition to war with Iraq under mounds of GOP talking points about the evil of Saddam Hussein, the need to spread democracy in the Middle East through merciless bombing, etc.
But today, Sen. Ed Markey has been the national pace-setter for Democrats in establishing his clear, unequivocated opposition to President Trump's sudden move towards war with Iran: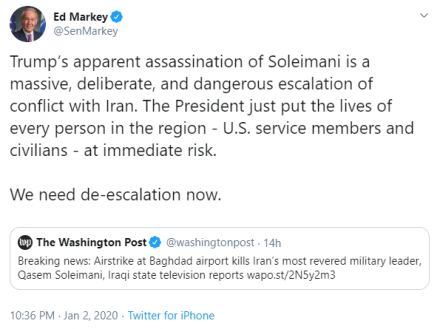 The Boston Globe rounds up other Massachusetts Congressional delegation responses to Trump's Iran escalation. While Rep. Ayanna Pressley also stood in clear, strong opposition to war with Iran, unfortunately many other Democrats made the stumble of starting by agreeing with Trump in principle, before then saying they disagree with him in practice: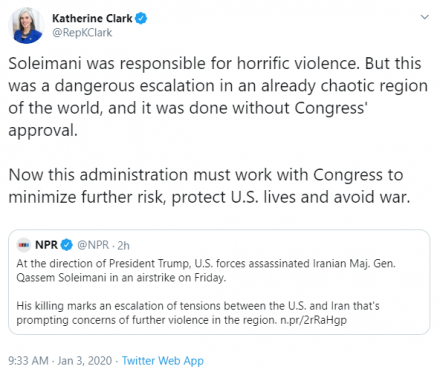 The question is not whether Soleimani is a bad guy. The question is whether he's worth starting a war over!
And the question is not whether war with Iran has been properly approved. The question is why we're moving toward war at all!
We should be bringing our troops home from the Middle East, not starting pointless new wars. Democrats should just say that!