When you really think about it … you wonder how it's ever come to this.
As I mentioned nearly a week ago, BU Prof. Nathan Phillips has been on hunger strike for seven days now. He is an opponent of the Weymouth gas compressor, now permitted and actively under construction. The site itself is heavily contaminated with arsenic, coal ash, likely asbestos, and diesel fuel. It is now video-documented that trucks heavy with mud and dust are leaving the site, headed for landfills in New Hampshire and Maine. They have not been washed off, as promised; instead they're spreading that contaminated soil far and wide — but especially in that Weymouth area.
With his hunger strike, Phillips is merely demanding three things:
Wash off/decontaminate the trucks before leaving the site.
Test the bricks at the site for asbestos;
Install an air quality monitor at the site. [The state says they've agreed to this, but apparently there's some disagreement about the technicalities of what they've agreed to.]
I'm asking anyone reading this: Can you please make two phone calls:
Governor Baker, 617-725-4005:
MassDEP Commissioner Martin Suuberg, 617-292-5500, then 7, then x1098
… and ask them to honor Prof. Phillips's three demands. (See after the "There's More" for more specific wording; Baker's and Suuberg's voice mail boxes have been full, and at this point if you mention Prof. Phillips's name, they'll certainly know what you're calling about.)
Yesterday Phillips and Andrea Honoré (of Sit With Andrea fame*) went to the unveiling of a new MassINC Polling Group climate change poll, and sat in the front row as Energy and Environment Secretary Theoharides extolled the action the Baker administration is taking on climate. The Weymouth compressor was, of course, the elephant in the room. Prof. Phillips estimates that the emissions enabled by the pipeline would equate to 1.1 million cars on the road, which obliterates any benefit Sec. Theoharides is trying to claim credit for with the Transportation Climate Initiative. They're right there in the front row, with their "NO WEYMOUTH COMPRESSOR" stickers on. Frankly I'm amazed he's so strong and is still getting around.
This hunger strike has gotten a little bit of press attention; but I find it amazing that so few in the press knew about until several days in. But we've now got stories from a couple of outlets:
These are all very good summations. I'm pretty sure there's more press coverage to come.
Why does a man have to starve himself, just to get the Commonwealth of Massachusetts to protect the public in the most basic way?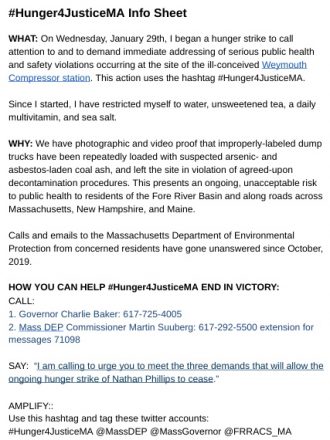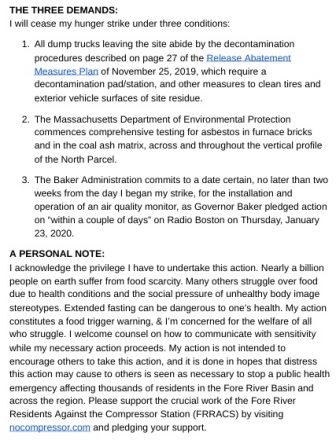 (*Andrea Honoré sat outside the Governor's office on her lunch hour for 211 days to talk to him about the Weymouth compressor, without the Governor ever acknowledging her or taking an interest. The one time she got on an elevator with him, he looked down and said, "You have been so brutal to me, I have nothing to say to you."
That's compassion for you; that's responsive government for you; that's "redress of grievances" for you.)