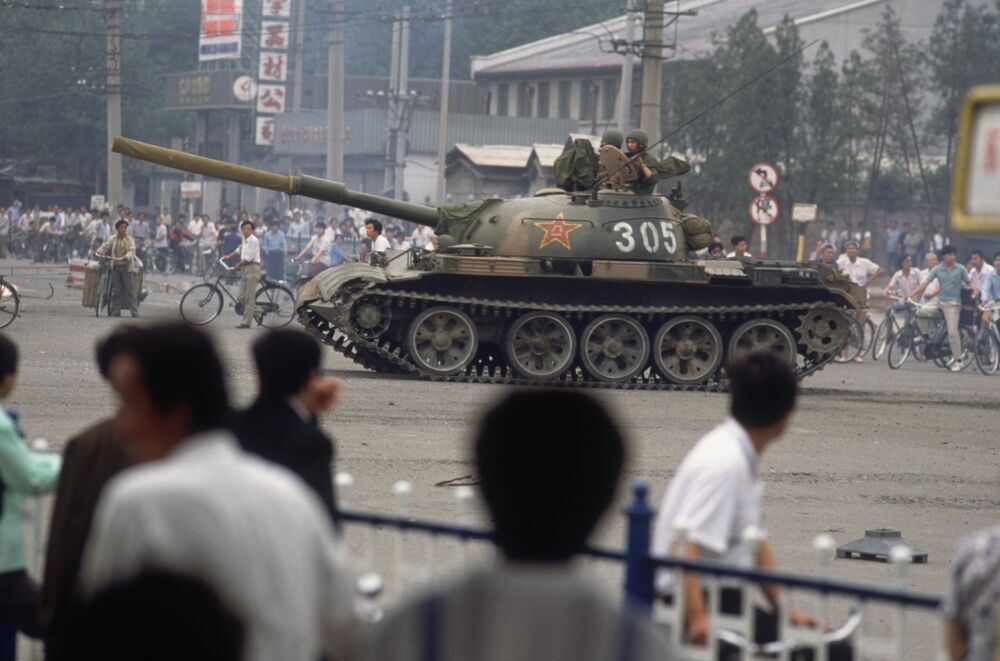 Chinese tanks in Tiananmen Square
On Saturday, May 30, 2020, police in Minneapolis, without warning, shot flash-bang grenades and tear-gas at an MSNBC crew while it was broadcasting a live spot by MSNBC anchor Ali Velshi. Mr. Velshi himself is hit by a police projectile at the end of the spot. On the same day, a police vehicle DROVE INTO A CROWD of protesters who were pelting it with water bottles and trash. New York City Mayor Bill de Blasio made excuses for the police perpetrators when he should have been calling for prosecution and conviction for attempted murder (among other charges).
The day before, a black CNN news crew was arrested on live television by Minneapolis police without warning. A white CNN reporter in the same demonstration was ignored.
Let's not delude ourselves about what is happening here. White racist America has been arming racist cops with military-grade weapons while pursuing racist policies against blacks for more than a decade. We saw a dress rehearsal in the chaotic Keystone Cops response to the Boston Marathon bombing.
Blacks, Hispanics, immigrants (regardless of legal status) and other scapegoats are being targeted by authorities RIGHT NOW. Government forces are arresting journalists RIGHT NOW. Donald Trump is threatening an executive order to attempt to silence social media RIGHT NOW.
Just so that we're all clear about the players, let me point out that a Democrat was or is governor of each state (Minnesota, New York, and Massachusetts) where and when these events took place. Similarly, a Democrat was or is mayor of each city (Minnesota, New York City, Boston) when these events took place.
This systemic racism is just as much a Democratic problem as Republican.
If there are ANY sane heads left in government, they MUST stop this tyranny RIGHT NOW. Those who have been saying "it can't happen here, not in America" are NOT paying attention.
We are witnessing America's Tiananmen Square moment. America claims to be a democracy. America claims to respect the rule of law.
Will we allow our police and military (the National Guard are participating in the violence against protesters in Minneapolis) to continue this brutality in our name?
I suggest that it's past time to worry rather less about what might or might not happen in November, and to focus our attention on what is going down RIGHT NOW.
If we do not, then November 2, 2020 might be just another day of tyranny in the New America.