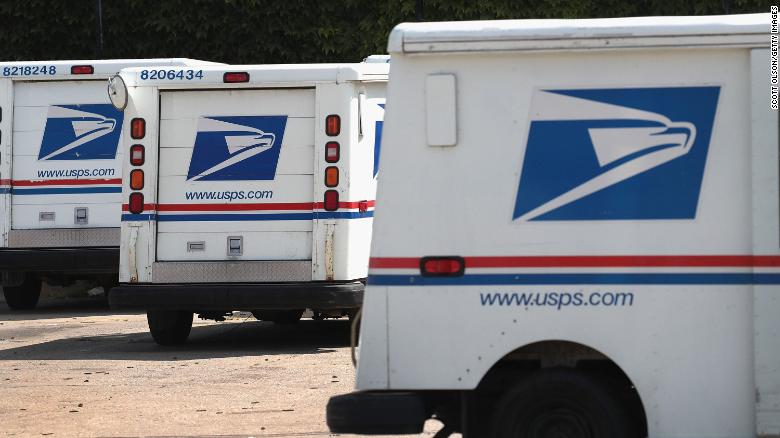 Breaking news — Friday update (14-Aug-2020 3:20p)
The Washington Post is now reporting Postal Service warns 46 states that their voters could be disenfranchised by delayed mail-in ballots (emphasis mine):
Anticipating an avalanche of absentee ballots, the U.S. Postal Service recently sent detailed letters to 46 states and D.C. warning that it cannot guarantee all ballots cast by mail for the November election will arrive in time to be counted — adding another layer of uncertainty ahead of the high-stakes presidential contest.

The letters sketch a grim possibility for the tens of millions of Americans eligible for a mail-in ballot this fall: Even if people follow all of their state's election rules, the pace of Postal Service delivery may disqualify their votes.
…
The ballot warnings, issued at the end of July from Thomas J. Marshall, general counsel and executive vice president of the Postal Service, and obtained through a records request by The Washington Post, were planned before the appointment of Louis DeJoy, a former logistics executive and ally of President Trump, as postmaster general in early summer. They go beyond the traditional coordination between the Postal Service and election officials, drafted as fears surrounding the coronavirus pandemic triggered an unprecedented and sudden shift to mail-in voting.
…
An analysis of the USPS letters to states reveals that the threat of ballot rejection because of missed delivery deadlines may be highest for voters in 40 states that received serious warnings. About 159.5 million registered voters live in those states.
…
So the USPS warned states last month that nearly ONE HUNDRED SIXTY MILLION registered voters live in states affected by this shutdown (because that's what it is).
Various sources report that there were about 153M registered voters nationwide in the 2018 election.
The USPS is, in effective, announcing that it is unable to assure ANY voters that their mail-in ballot will be delivered on-time.
Why isn't this the lead story in mainstream media news reporting?
——-
Original post follows…
Donald Trump is sabotaging the United States Post Office in a flagrant, brazen, and brazenly corrupt attempt to suppress legitimate votes in November. What are we DOING about this attack?
In a widely-reported on-the-record remarks yesterday Mr. Trump explicitly stated that his goal is stop the USPS from delivering ballots (emphasis mine):
…
"If we don't make a deal, that means they don't get the money," Trump told host Maria Bartiromo. "That means they can't have universal mail-in voting; they just can't have it."
…
Memos obtained by The Associated Press show that Postal Service leadership has pushed to eliminate overtime and halt late delivery trips that are sometimes needed to ensure mail arrives on time, measures that postal workers and union officials say are delaying service. Additional records detail cuts to hours at post offices, including reductions on Saturdays and during lunch hours.
…
In separate reporting, also from yesterday, multiple sources support CNN reporting that Donald Trump has ordered the removal of hundreds of high-volume mail sorting machines (emphasis mine):
The US Postal Service plans to remove hundreds of high-volume mail-processing machines from facilities across the country, leading some postal workers to fear they may have less capacity to process mail during election season.

Documents obtained by CNN indicate 671 machines used to organize letters or other pieces of mail are slated for "reduction" in dozens of cities this year. The agency started removing machines in June, according to postal workers.

…
But the Postal Service's own document calls the move a "reduction" of equipment. Postal workers in various locations said machines have been dismantled and that it wasn't immediately clear what the agency was doing with the parts.

Some of these machines have the capacity to sort up to 30,000 mail items and take only two Postal Service workers to run, according two machine technicians CNN spoke with.
They estimate it would take about 30 employees over their entire shifts — they have to have scheme training to do the work — to do that amount of work by hand.
As icing on this corrupt cake, the Washington Post reported in mid-June that Mr. Trump's appointee to be Postmaster General (Louis DeJoy) has deep ties to Donald Trump and GOP and, like so many favorites of Donald Trump, has a significant personal financial interest in private competitors of the USPS including UPS and Amazon (emphasis mine).
…
DeJoy and his wife, Aldona Wos, the ambassador-nominee to Canada, have between $30.1 million and $75.3 million in assets in USPS competitors or contractors, according to Wos's financial disclosure paperwork filed with the Office of Government Ethics. Postal Service mail processing contractor XPO Logistics — which acquired DeJoy's company New Breed Logistics in 2014 — represents the vast majority of those holdings. Their combined stake in competitors UPS and trucking company J.B. Hunt is roughly $265,000.
…
Into that fray steps DeJoy, one of the richest people in North Carolina, according to Business North Carolina magazine. He has donated more than $2 million to the Trump campaign and Republican causes since 2016, according to the Federal Election Commission, including $210,600 to the Trump Victory PAC on Feb. 19.

He hosted a fundraiser for the president and Republican National Committee in 2017 at his home in Greensboro, N.C., where plates started at $35,000 per couple, according to the Raleigh News & Observer.

He was in charge of fundraising for the Republican National Convention in Charlotte before it was moved last week to Jacksonville, Fla. His wife, Wos, is Trump's ambassador-nominee to Canada and vice chair of the President's Commission on White House Fellowships. Duncan, the chair of the USPS governing board, also chairs the fellowship commission and is a former RNC chairman.
Yesterday, CNBC reported that Elizabeth Warren is demanding a corruption probe after documents show that Mr. DeJoy purchased options in Amazon stock after his appointment as Postmaster General. Those options are a direct conflict of interest with his new role (emphasis mine):
Warren's tweet linked to a CNN report on Wednesday, which said that DeJoy continues to hold at least at least $30 million in holdings in his former company XPO Logistics, which is a United States Postal Service contractor.

CNN reported that those holdings likely created "a major conflict of interest, according to newly obtained financial disclosures and ethics experts," who the news site said "were shocked that ethics officials at the postal service approved this arrangement."

CNN, citing government financial disclosures, also reported that on the same day in June that "DeJoy divested large amounts of Amazon shares, he purchased stock options giving him the right to buy new shares of Amazon at a price much lower than their current market price."

"This could lead to a separate conflict, given President Donald Trump's disdain for Amazon, and his reported effort in 2018 to pressure DeJoy's predecessor to raise prices on Amazon and other firms, while complaining about its founder Jeff Bezos," CNN noted.
We know that most legitimate polling shows that Donald Trump and the Trumpists cannot win the November election. We know that a crucial foundation stone of a successful election is our ability to handle mail-in ballots.
We know that, and so does Donald Trump and his handlers. We already have strong evidence that Mr. Trump's strategy for retaining power is to subvert the electoral process in an attempt to exploit weaknesses in the seldom exercised Constitutional provisions about Presidential succession in the absence of an Electoral College majority.
Donald Trump has thrown Molotov cocktails at a key component of the November election. He has placed a Trumpist lackey at the top of the USPS. Mr. Trump has proudly boasted, on national media, that he is doing this in order to block voting by mail.
Where is the fire department? Who are the protectors of America RIGHT NOW and what are they doing about this?