Only the slimmest policy difference separates us from Texas and Florida as far as how our Governors eschew COVID precautions. Thank goodness MA has a willingly and highly vaccinated population. 
————
Around the time the Former Guy became President, checking Twitter for news in the morning brought my ire and blood pressure up even before my feet had a chance to hit the floor. To be factual, though, it was Gov Baker who raised my ire first. Now we have Biden, who angers me, but less so and in a vastly different way, but we still have Gov Baker who is all sorts of infuriating. So, I was checking Twitter yesterday morning, and I saw these stories.
I am a parent of a tween and teen, and I have reached my limit on Gov Baker's callous actions regarding schools and COVID. Why in the world would EdComm Riley think that something that worked in Utah last year, before Delta was dominant, would even be appropriate to enact here, now? There are kids who must be in school, and I completely understand. Their parents will have to perform their risk calculus and do what they need to do. There are those of us with unvaccinated kids that do not have to be in school yet we have NO remote option. Having zero COVID precautions and keeping contagious kids in school is untenable for my family.
I'm sick to death of this. If I wanted to live under a Texas or Florida style governance, I would live there. I don't want my community put in danger because some jabroni wants to get reelected.
Thank goodness there are lawmakers and newspapers getting on Baker's case for being so… such a… callous ghoul? Meanwhile, at the State House: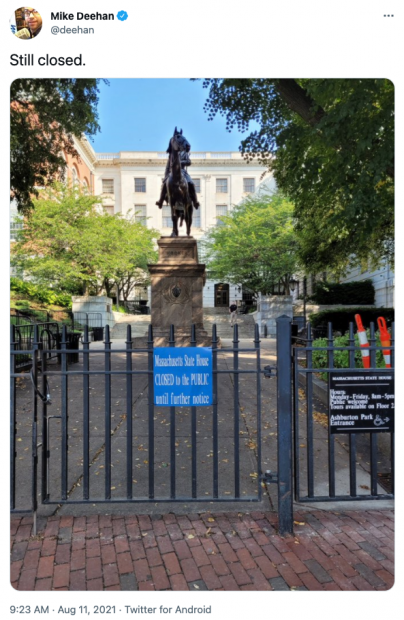 Have thoughts on masks being mandatory in schools? Email BESE. I did.
katherine.craven@mass.gov, James.Morton@mass.gov, Amanda.Fernandez@mass.gov, Matthew.Hills@mass.gov, Darlene.Lombos@mass.gov, Michael.Moriarty@mass.gov, eoe@massmail.state.ma.us, Paymon.Rouhanifard@mass.gov, MaryAnn.Stewart@mass.gov, martinmarty.west@mass.gov