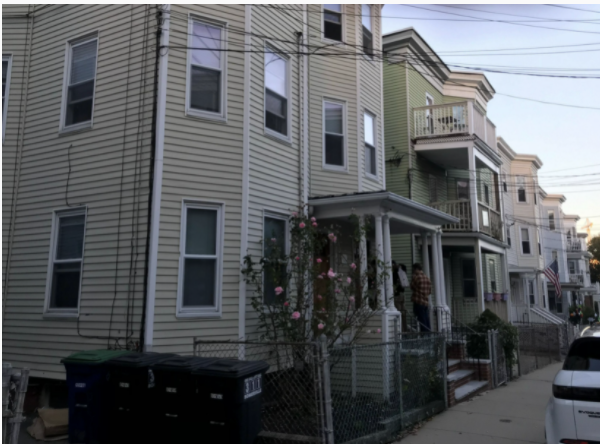 This is a typical row of 3- deckers on Marion Street in my neighborhood.  When I moved to Somerville, 3-deckers were the way many working families were able to buy their homes, with multiple generations in the apartments or tenants helping pay off the mortgage. 
Later, condos became another way families could become homeowners and build wealth. Our neighborhoods were pretty stable, with owner-occupants common.
Now, when 3-deckers and even condos are sold, they are fast increasing as a way for investors and corporations to make profits, rather than a chance for homeownership. I can remember when I first heard about a million dollar condo. Now they're common. In Somerville, in the year before the pandemic, over 2/3 of sales of buildings of four or more units were cash sales, a sign that the buyers were probably not would-be owner occupants.
These cash sales averaged almost twice the assessed valuation. And for those held less than 3 years, or flipped, the price was over 3 times the assessed valuation. The results are easy to see. In almost every case where a house is for sale, developers outbid homebuyers and turn everything they touch into luxury condos. (On the right, "Luxury Collection" condo for sale in 3 decker on Marion Street.)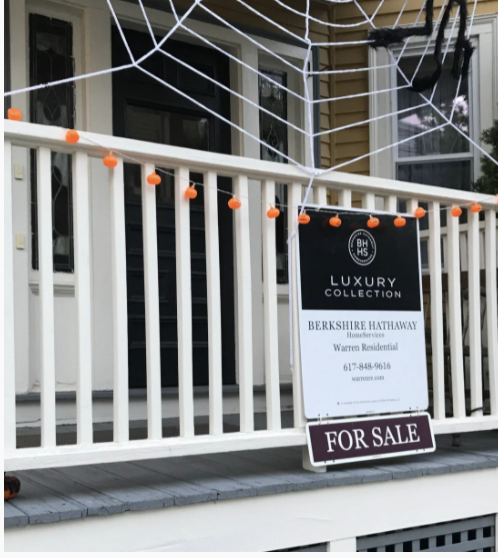 Homebuyers are outbid on price and timing; speculators are sometimes willing to buy with no conditions.  Many are "private sales" without a broker, and no public notice, so potential homeowners don't even know about the opportunity.

I asked Somerville Councilor at Large Bill White about this.  He says the percentage of 2 family homes with residential exemptions for their property taxes has dropped from 60% to 56% in the past 5 years; for 3 family homes residential exemptions have dropped from 41% to 32%; and even condos have gone from 58% to 56%.  Residential exemptions are available for homes that the owner lives in.  Absentee landlords and speculators can't get them. 

White concluded that "residential ownership has dropped over the last 5 years…We lost 675 resident-owned multi-families."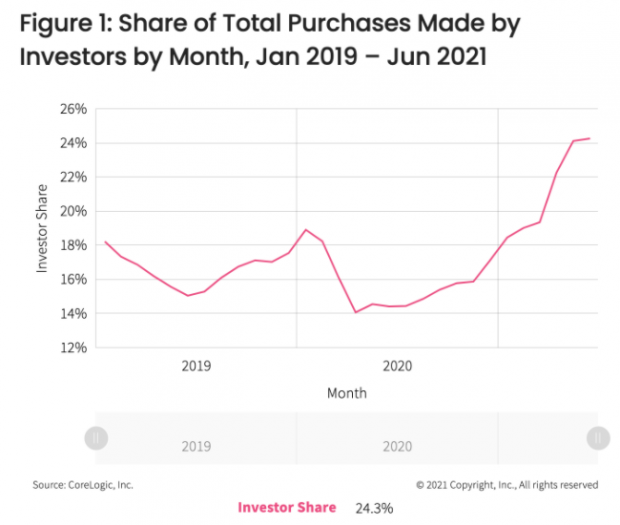 Banker and Tradesman recently reported that, during the pandemic, sales of 2 and 3 family homes have increased significantly across the state. The prices have gone up by 18.35% for 2-families and 25% for 3 families – in one year.

Even single family homes are increasingly being bought as investments rather than by homeowners, reports CoreLogic. The same article says that "large investors (those who retain 100 or more properties) are largely responsible for this rise." (The chart is of single family sales nationally.)
What about current tenants of properties being bought by speculators?

We often hear of new owners rapidly raising the rent.  Mayor Joe Curtatone testified at a a state house hearing last week, giving recent examples of two buildings.  At 51 Ibbetson, a new owner increased rents by $500-$900, resulting in displacement.  At 19 Central Street, an LLC bought a 30 unit building, increasing the rent by 30% or an average of $550.  

Speculators are driving up prices, blocking new home-buyers, and promoting destabilization of neighborhoods, displacement of long-time residents, and gentrification.

Is this inevitable?  That's the subject of my next post.