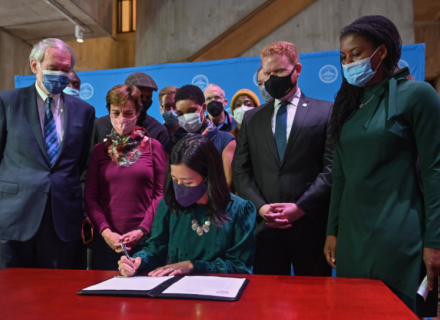 Today, Michelle Wu signed a measure into law for the first time as mayor of Boston. The measure is to divest city funds from the fossil fuel industry. This is an astronomical move for a city like Boston and will create the groundwork for many cities nationwide to do the same. Not only will it divest from fossil fuels, but it will from tobacco and prisons as well. Earlier this year, the state of Maine passed similar legislation to divest their state pension fund from fossil fuels. The state of Massachusetts as a whole, however, has not been nearly as proactive.
Despite being leaders in many ways, Massachusetts as a state (or commonwealth) has failed to lead in the matter of divesting from fossil fuels. In this instance, we should follow the path that Maine and now Boston set this year by divesting our $73 billion pension fund from fossil fuel companies.
According to the International Energy Agency we need to leave 80% of the world's fossil fuels unburned to achieve our goals of keeping the world's warming under 3.6 degrees fahrenheit. We've seen rising sea levels, historic flooding, fires burning the west, and even storms ravaging states like Iowa. The time for Massachusetts to take more action was yesterday.
Financially speaking, this has never made more sense. With the Biden administration determined to be progressive with the environment and rising pressure from the public, the time would be now to move money in pension funds from fossil fuels to renewable energy. Forbes has even recently reported that yields from renewable energy investments more than double that of fossil fuels.
Having a Republican Governor in Charlie Baker certainly doesn't help the matter. With 2022 approaching, it is time for Massachusetts Democrats to prove they aren't just NIMBY liberals. We must mobilize around Democratic candidates who will take bold action on fighting climate change, our state and planet cannot wait.
The House and Senate (collectively) are no saints on the matter, though. Democrats have had a veto-proof majority in the capital for years now yet have failed to act. There certainly have been Senators and Representatives willing to fight for bold legislation, but the two chambers collectively have failed to do so. So while we should be fighting for a Democratic Governor who will be bold, we should also be unafraid to primary anyone in the Senate and House who is unwilling to take action.
The earth is at a breaking point. I know that sounds like hyperbole, but it is not. We need to move away from fossil fuels immediately, and Massachusetts needs to be a part of that change.