Former Dancin' With The Stars contestant and current U.S. Energy Secretary Rick Perry has a bonkers plan to force ratepayers to subsidize coal and nuclear power in the name of "reliability." Not because Republicans are beholden to existing industries and donors! Not because they're fearful of new technology, change & the future! No, it's because of "reliability," even though a study from Rick Perry's own U.S. Department of Energy found
From Sunday into Monday, New England was battered by a strong storm that gave a great test of how "reliable" Pilgrim Nuclear power plant is compared to clean energy. It's a timely debate as a new government report warns that due to global warming, "heavy rainfall is increasing in intensity and frequency across the U.S., especially in the Northeast, and that is expected to keep increasing." That's on top of worsening heat waves, hurricanes, coastal flooding, and wildfires.
First, the Block Island Times checks in with the Block Island offshore wind project:
"For good stretches of this multi-day storm event, the Block Island Wind Farm was producing at or near its full capacity," said Wims. "The maximum sustained winds we recorded at the site were in excess of 60 miles-per-hour during Sunday night, when the project shut down for several hours because wind speeds exceeded our operational top speed."

The wind farm, constructed to withstand a 1,000-year storm, has a top wind speed threshold of 55 miles an hour. When wind speeds exceed 55 miles per hour the wind farm's blades are automatically shut down and put into a protective, feathered posture until winds calm.

"Before dawn on Monday, wind speeds slowed back under 56 mph and the wind farm began producing power again," said Wims. 
How about onshore wind? The Fairhaven wind turbines did great as well: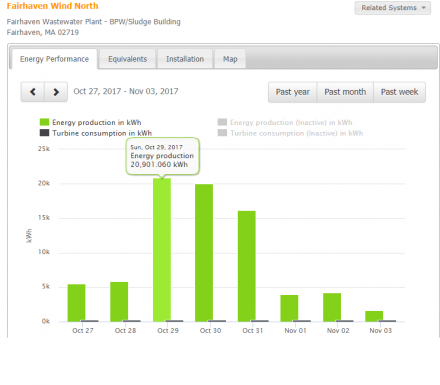 Meanwhile, as it seems to in every big storm, Pilgrim Nuclear had its struggles:
A 23-kilovolt line that feeds site power to three support buildings for the plant was taken down by a falling tree, and the line remained out of service for 17 hours.

The loss of power from the grid did not affect operation of the reactor and related systems, but the failure affected computers and communications systems, according to the event report filed with the Nuclear Regulatory Commission, in which the situation was characterized as causing "a major loss of communications ability."

The line also provides power to security-related equipment, according to a spokesman for the NRC, but a spokesman form Entergy, Pilgrim's owner, declined to comment on anything security-related.
I cannot begin to list how frequently problems knock Pilgrim offline. Just Google "Pilgrim nuclear offline" and you will find a litany of woe.
Pilgrim is exceptionally rickety and thankfully it will soon be shut down. But the average nuclear plant is down for 35 days a year for refueling alone, never mind maintenance, unplanned outages, storm damage, water shortages, etc.
There are a lot of things we can do to build a strong, reliable electric grid. We can diversify our energy sources so we're not getting roughly 80 percent of our electricity from just two sources, fracked gas and nuclear, as we are today. We can invest in energy efficiency so we need less power to begin with. We can invest in energy storage so we can deploy clean, locally-produced solar and wind power whenever we need them.
What we don't need is to subsidize expensive coal and nuclear plants that are losing the free market battle to cheaper clean energy and fracked gas. Maybe Rick Perry should listen to a report from (adjusts glasses, squints) the "United States Department of Energy" that shows renewables and a strong, reliable grid go hand in hand and that "baseload power – coal and nuclear power – 'is not as necessary as it used to be' given advances in grid technology."