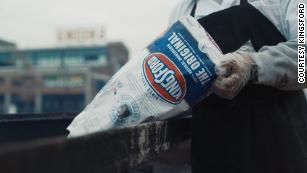 Kingsford "Preserving the Pit" promotional image
CNN is reporting an initiative launched today (25-Jan-2021) by Kingsford (the charcoal brand) to honor and encourage the role Black Americans played in creating the American barbecue tradition.
"Barbecue was perfected at the hands of enslaved Africans for over 350 years in the American South," [barbecue historian and program mentor Howard] Conyers told CNN Business. "These individuals weren't able to read and write to tell their own stories. We want to see this barbecue tradition uplifted, celebrated and become more of a central piece in the African-American community."
Black Americans arguably saved representative democracy in America in this election cycle. Black Americans overwhelmingly supported Joe Biden during the 2020 primary season, catapulting him to his landslide victory in the primaries even as the established white-dominated media industry, together with the white-dominated Democratic Party, nearly eliminated him in the early primaries by focusing on white-dominated states. Black Americans turned out in droves in the key battleground states to turn back the insurrectionist Trumpist GOP. Black Americans responded to years of GOP voter suppression tactics by redoubling their support for Joe Biden and the Democratic Party. Black Americans turned the tide in the November election in Georgia, and then did it AGAIN in the January 5th special election for the Georgia Senate.
Washington D.C. Mayer Muriel Bowser — black mayor of majority-black Washington D.C. (not yet a state!) — has led the charge to investigate the apparent complicity of white government officials in the January 6 insurrectionist riot that briefly occupied the U.S. Capitol building and threatened the lives of our Congress, Vice President, and their families. My own Representative Ayanna Pressley, a black woman representing our own CD-7, has been similarly leading her colleagues in the House.
The Democratic Party holds all three branches of government because Black Americans saved the day.
This commercial response by a charcoal supplier — a proletarian product sold into a proletarian market — epitomizes the way that America can show its appreciation to our black brothers and sisters.
Thank you, Kingsford. Thank you, Black America.