As you can see from the table below, Wayland got $244,512. They have 195 teachers as measured by Full Time Equivalents (FTE's).
The link to the actual Mass.gov spreadsheet is here. The tab is aid436 and the cell is Cell 329:BE. Some people might suggest that $1,250 for our hard working teachers doesn't seem like much but that's not what the money was supposed to be for! The Federal Department of Education defines what an LEA (Local Education Authority) can spend stimulus money on in Guidance Document released last August.
D-1. For what purposes may an LEA use its Ed Jobs funds?
An LEA must use its funds only for compensation and benefits and other expenses, such as support services, necessary to retain existing employees, to recall or rehire former employees, and to hire new employees,(emphasis added in order to provide early childhood, elementary, or secondary educational and related services.
Their new contract says that any stimulus dollars aka Education Jobs Funding grants received will be paid out in a one time lump sum to each employee. (emphasis added)
Below is a link to the Town of Wayland's new agreement with the Teacher's Association (a union) for the contract term 2010-2013. Click on the link "Wayland Teachers Association (2010-2013)" and it will download the entire contract in PDF format. Pay particular attention to page 30 where the salary schedules begin. In between years 2010 and 2011 they very smoothly stuck in the following …
For the 2010-2011 school year, in addition to the above, any funds received by the Committee from the Federal Education Jobs Funding grant shall be divided equally by the number of FTEs, and each bargaining unit member shall receive a one-time lump sum payment equivalent to that FTE amount, apportioned according to the bargaining unit member?s full-time equivalent status, within 30 days of the Committee?s receipt of the Federal Job Acts grant.
Wayland Teacher's Association (2010-2013)
So in Wayland not a job created. Not a job retained. Just a straight out $1,250 cash giveaway to public union members.
Maybe this is why public union supporters don't want tax payers voting on union contracts.
Back in January I posted Public Employee Unions. Let's level the playing field in which I suggested that tax payers should have the ability to vote on such contracts. In the comments that followed there were the predictable protestations in favor of representative government. (Not hearing a lot of that about what's going on in Wisconsin but I digress.) Well that only works if our elected officials are actually representing the tax payers.
So when does 11.5% equal 1.5%?
When the unions and their enablers in government tells us it does!
In this news report from WickedLocal/Wayland states…
WAYLAND — The following was submitted by the Wayland Teachers Association and the Wayland School Committee:
The Wayland Teachers Association (WTA) and the Wayland School Committee are pleased to announce a new three-year labor agreement has been reached.
One of the major points of the agreement within the new contract involves salary increases. For the 2010-11 school year, each teacher will receive a one-time payment funded exclusively from the Federal Education Jobs Funding program. In addition, for the 2011-12 school year, each teacher will receive a salary increase of 1 percent and a 1.5 percent one-time payment. For the final year of the contract, the 2012-13 school year, each teacher will receive a 2.5 percent salary increase.
Note that the statement was issued jointly by the Teacher's Association AND the elected School Committee. I think most tax payers in Wayland would look at the report in their local paper and think to themselves that a 1.5% to 2.5% raise for the average teacher would seem reasonable. There's only one problem with it. It is a flat out, bold faced LIE!
No mention of a pay increase in the 2010-2011 school year. But a close look at the tables from the contract (and a little handy work with a calculator tells a much different story.
Here is a screen shot from the contract as posted on the Wayland website.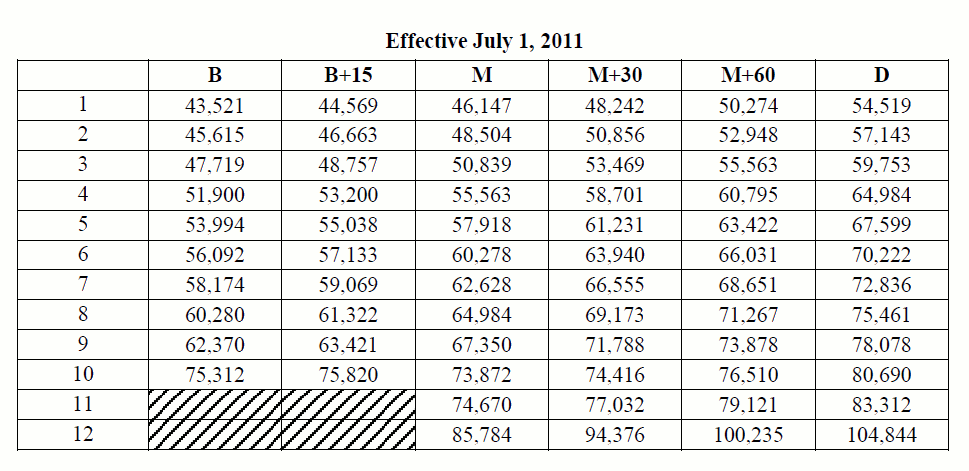 In 2010-2011 a teacher with a Bachelor's degree and 3 years on the job is receiving $46,548 in salary. Now according to the schedule for 2011-2012 school year that same teacher will receive $51,900 because they now have 4 years experience. The 1.5% that the Unions and their city government enablers are claiming, is the difference between the salary for teacher this year with say 3 years on the job versus what a teacher next year with 3 years on the job will make. Of course the teacher who had 3 years experience last year will have 4 years experience this year and will "step to the loo my darling."
Some might say those are simply "step raises". They're still raises and a lot more than one or two percent. I would suggest Wayland teachers are "stepping" in it. I'm pretty good at math and the difference between $51,900 and $46,548 is $5,352. $5,352 divided by $46,548 equals a raise of 11.497%. Not too shabby in a tough economy and certainly not a raise that many if any in the private sector are being granted.
Perhaps the current pay increases are to make up for the beating teacher's salaries took in the 2008 and 2009 during the economic recession. Not so much. According to the Massachusetts Department of Education website, the average salary for a Wayland teacher jumped by over $6000 or 8.3% between 2008 and 2009.

Am I saying that teaching children isn't important? No. Am I saying that a Wayland teacher isn't on average worth $79,000 a year? No. (Of course that is $12,000 more per year than the average teacher in Massachusetts.)
What I am saying is "Stop lying to us saying that teachers are only getting a 1.5% to 2.5% a year raise and stop lying to us that stimulus money is being used to create or save jobs!"