Building on jcohn88's post from Friday, which looked at the primary results in Boston on a precinct-by-precinct level, I took advantage of some lousy weather on Saturday to look at town-by-town results in the governor's race statewide.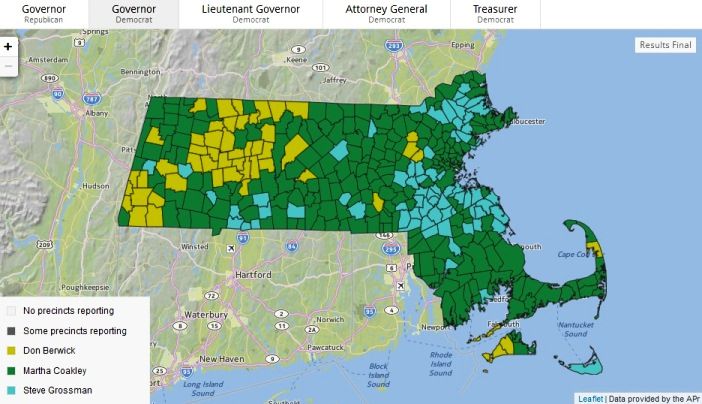 By now most of us have seen the above statewide map, courtesy of WBUR, showing who won each town. By my count this map shows that AG Coakley won 220 of the Commonwealth's 351 cities and towns outright and tied for first in six more (four with Steve Grossman and two with Don Berwick; more on ties at the bottom of the post). Steve Grossman won 80 towns (74 outright and six ties for first) and Don Berwick placed first in 51 towns (48 outright, 2 tied with Coakley, and 1 tied with Grossman).
I've found such maps to be interesting but of limited use in a three-way race, so I've gone ahead and made a spreadsheet and generated some more maps for your viewing pleasure. The goal is to show where each candidate did – or didn't – have support and to identify some trends.
Martha Coakley
The sitting AG, of course, was the winner last Tuesday with 42.4% of the vote, compared to Steve Grossman's 36.5% and Don Berwick's 21.1%. As the map below shows, she did well just about everywhere and truly poorly almost nowhere.
The key for the map is as follows:
Good towns: Dark Blue: 60%+, Blue: 50-59.99%, Light Blue: 40-49.99%
Medium towns: White: 30-39.99%
Bad towns: Pink: 25-29.99%, Red 15-24.99%, Dark Red: Below 15%
The "Coakley Corner": Coakley received over 60% of the vote in 10 communities. Except for Tolland, on the border with Connecticut west of I-91, all of them were in the northwestern corner of the state, where she grew up.
Majority rules: But Coakley won between 50 and 60 percent of the vote in another 36 towns, ranging from the liberal stronghold of Provincetown (59.0%) down to the adjacent towns of Brookfield and North Brookfield, each of which gave Coakley exactly half of the votes cast with Grossman and Berwick left to fight over the other half. Among the 50-60% towns was Coakley's longtime residence of Medford (55.1%) and particular stronghold was Bristol County.
In all, the AG won an absolute majority in 46 municipalities in a three-way primary with three valid candidates. That's impressive.
Winning where the votes are: Even more impressive, Coakley had the great good sense to run well in vote-rich municipalities. She placed first in 18 of the top 25 towns by votes cast. Moreover, she beat Steve Grossman by at least 10 points in the first 14 of those 18.
Coakley also placed a very-respectable second to Grossman in Peabody (where she received 41.1% of the vote), Weymouth (39.8%), Framingham (39.5%), and Quincy (36.1%). She finished third only in Newton (hometown of both her opponents, where she still polled just under 25%), neighboring Brookline (26.9%), and Lexington (30.7%).
City Slicker: As these figures would suggest, Coakley did very well in the state's major cities. Jcohn88's work showed Coakley's strength among communities of color in Boston. I have not looked at other cities at the precinct level, but it appears those results were replicated across the Commonwealth.
You may recall that I posted a while back about turnout patterns in 16 cities across Massachusetts with high numbers of non-white voters, as well as younger and poorer voters, where turnout varies greatly from a Presidential year to a non-Presidential year. Turnout was fairly low in most of those cities this time around, but Coakley swept them.That's right: she placed first in all 16:
Coakley won an absolute majority of the votes cast in seven of my 16 cities: Lawrence (58.7%), Chelsea (58.2%), Springfield (52.2%), New Bedford (51.8%), Fall River (51.3%), Brockton (51.3%), and Lynn (50.2%).
She scored between 45% and 50% in another four: Worcester (48.3%), Lowell (48.2%), Fitchburg (47.9%), and Boston (47.2%).
She emerged first in closer races in Salem (44.3%), Pittsfield (43.7%), Holyoke (40.7%), Somerville (38.7%) and Cambridge (37.3%).
Note that Grossman finished second (a fairly distant second for the most part) in all of my 16 cities except Cambridge and Somerville, where significant progressive communities threw support to Don Berwick.
I really should count Malden in my group, and Coakley won an absolute majority there as well (50.4%).
Receiving over 45% of the vote in 12 of the state's 17 most urban communities is a solid showing in a three-way primary. The question is whether Democrats can boost turnout in those cities in November.
Blue good, red bad: Coakley's topline number was 42.4% and that support was broadly spread out across the state. As shown by the sea of blue in Coakley's map:
She was above 40% in 216 of 351 towns, those towns representing 63.5% of the total votes cast.
She also was above 38% in another 36 towns.
Coakley placed first in 196 of the 216 towns where she received at least 40%. Her highest second-place finish was in Dracut, where she got 43.1% but finished 28 votes behind Steve Grossman.
A look at my Coakley map will show you that particular areas of strength were her home region of NW Mass. (more below), the cities (more below), Central Mass., and the Cape. She may have appeal in Republican-leaning places after all.
While beating 40% in many, many towns, she didn't do really badly in very many places:
Coakley did not finish with under 15% of the vote in a single town in the state.
She received under 30% in only 17 towns. Other than Newton and Brookline, her opponents' home turf, and the curious case of Upton (more below), they were all in Western Mass., mostly smaller towns dominated by Don Berwick.
Coakley finished third in only 10 towns: Newton, Brookline, Lexington, Wayland, Alford, Stockbridge, Monterey, Rowe, Westhampton, and Hadley. In most of those communities she wasn't far behind the second-place finisher.
The unfilled blocs (30-39.99%) on the map show that even where Coakley finished behind Grossman (South Shore and southwest of Boston) or Berwick (the hill towns west of Northampton), she managed to rack up enough votes to score in the 30s and minimize the damage.
Steve Grossman
The Treasurer's map, far from being a treasure map, tells the tale of a candidate who was a few points behind in huge swaths of the state and did really poorly in the west.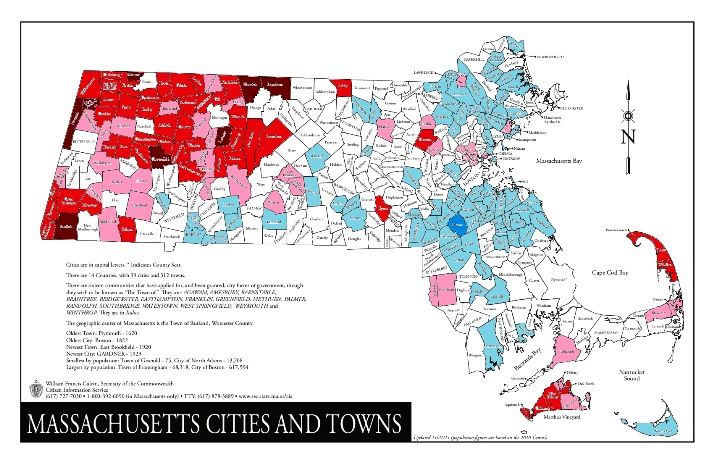 Good towns: Dark Blue: 60%+, Blue: 50-59.99%, Light Blue: 40-49.99%
Medium towns: White: 30-39.99%
Bad towns: Pink: 25-29.99%, Red 15-24.99%, Dark Red: Below 15%
The 413 blues reds: The most striking thing to me on the Grossman map is the sea of red west of the Quabbin. It's truly shocking for a candidate who did so much to build the Democratic Party in Western Mass. to do this badly there. In this election, he found himself the odd man out in both the Coakley Corner (NW corner where the AG grew up) and the Berwick Bloc (liberal Pioneer Valley towns where the doctor ran strongest).
Broad support in the East: East of the Quabbin, Grossman's map is not that bad. He hit 40% – a good enough figure to win this primary – in 88 cities and towns. He was within 3 points of 40% in another 56 communities. This shows me Grossman was not just a regional candidate the way Barry Finegold and Tom Conroy proved to be.
No running up the score: Whereas Coakley won over 50% in 46 cities and towns, Grossman broke the 50% mark only in the heavily-Jewish Democratic stronghold of Sharon. Berwick's presence on the ballot almost certainly cost him a big score in his hometown of Newton (Grossman 47%, Berwick 29%, Coakley 25%) and next-door Brookline (Grossman 40%, Berwick 33%, Coakley 27%).
In the end, Coakley bested Grossman by more than 20 points in 44 communities across the state (including huge wins in Western Mass., and wins between 20 and 30 in cities of Springfield, Lawrence, and Chelsea). Grossman turned the tables on her in only Newton and Sharon. Coakley beat Grossman by at least 10 points in a whopping 135 municipalities, he beat her by at least 10 in only 13 towns.
Close but no cigar: Proving that we had (1) a close race, and (2) a lot of small towns with low turnout, Grossman and Coakley were separated by 25 or fewer votes in 119 of Massachusettts's 351 cities and towns. Of those towns, Coakley won 85 and Grossman 29. They tied in five (more on that below). The top two candidates were within 5 percentage points of each other in an almost-identical 114 towns. Coakley won 61 of them, Grossman 48. 5 still were tied. Comparing Grossman's map to Coakley's will reveal broad areas like Central Mass. and the Upper Cape where, consistent with the statewide final score, she broke into the 40s but Grossman was stuck in the 30s. Just a bit behind in too many places.

Martha's (and Don's) Vineyard: Definitely not Steve's. Grossman finished last, and with under 30 percent, in all six Vineyard towns. Coakley and Berwick finished 1-2 on the east side of the island (Tisbury, Oak Bluffs, Edgartown), while Berwick and Coakley were 1-2 on the west side (West Tisbury, Chilmark, Aquinnah).
The island town of Gosnold (Cuttyhunk and Elizabeth Islands) is technically part of Dukes County. There Berwick won with four votes, Grossman and Coakley earning three each. So I guess Grossman did crack 30% somewhere in Dukes County after all. Believe it or not, as we shall see below, Gosnold didn't have the lowest turnout in this primary.
Beating Berwick: Grossman placed ahead of Don Berwick in 265 of the 351 towns, and they tied in another four. Grossman surpassed Berwick by at least 30 points in 19 towns (almost all between 128 and 495); by at least 20 points in 127 towns; and by at least 10 points in a whopping 223 towns, including virtually all the larger cities. In the top 25 cities by votes cast, Grossman topped Berwick by at least 10 points in 21. He beat him by 7.3 points in Lexington. Berwick topped Grossman in Cambridge, Somerville, and Arlington.
Berwick beat Grossman in 86 towns. I've mentioned Cambridge, Somerville and Arlington, but most were smaller towns in Western Mass. Berwick won big over Grossman (and generally over Coakley as well) in his Pioneer Valley and Berkshire strongholds. No way to know what this race would have been like with only two candidates, but Grossman's support across the state was far broader than Berwick's.
Don Berwick
Good towns: Dark Blue: 60%+, Blue: 50-59.99%, Light Blue: 40-49.99%
Medium towns: White: 30-39.99%
Bad towns: Pink: 25-29.99%, Red 15-24.99%, Dark Red: Below 15%
Did best in the West: Dr. Berwick's best area of the state was in Amherst, Northampton, and surrounding towns, which I've called the "Berwick bloc." He topped 50% in 14 towns (compared to Grossman's one) and nine were here, with another four clustered together in the southern Berkshires. Berwick scored in the 40s in 23 additional towns, all in the west except for Concord, Lincoln, and three on Martha's (and Don's) Vineyard.
I was not terribly surprised by this show of strength. At the convention Berwick took 51 of 121 delegate votes from the Berkshire, Hampshire, Franklin, and Hampden district (Sen. Ben Downing) and 76 of 124 in the Hampshire, Franklin, and Worcester district (Sen. Stan Rosenberg), his two best showings.
Berwick also did well in another "west": Metro West. At both the convention and in the primary vote, Berwick's performance was middling in Sen. Jamie Eldridge's district, but he was considerably stronger in Sen. Barrett's district next door. Speaking of Senate supporters, Berwick did well in Sen. Sonia Chang-Diaz's district at the convention, but that did not translate into votes, suggesting an urban problem.
Failure to gain traction: If Berwick was very popular where he was popular, he was not popular at all anywhere else. The deep red on the map shows that he failed to reach 15% in 58 towns (in two of them he didn't earn a single vote). He was below 20% in a total of 170 towns, and below 30% in 265 towns.
The map's red tide shows a candidate who didn't get much support anywhere other than his Western Mass. and Metro West strongholds. In only a few towns outside those regions did he hit 30% (unfilled) or even 25% (pink). Berwick ran (a mostly distant) last in well over 200 towns.
Berwick not only didn't do well in conservative towns in Central Mass., the Merrimack Valley, or south of Boston, he also did very badly in urban Massachusetts. Some of his worst towns in the state were Fall River, New Bedford, Brockton, Lawrence, Lynn, Chelsea, Revere, North Adams, Malden, Fitchburg, Lowell, Worcester, Springfield. In all of these places he was at 16% or worse. Take out JP from the Boston results and the same is probably true there as well.
Odds and Ends
This primary had some quirky aspects. Let's check some of them out.
A disburbing omen?: The total number of votes cast in the Democratic primary for governor was just over 539,300. The total number of votes cast in the Democratic primary between Ed Markey and Steve Lynch for U.S. Senate last April 30 was 539,827.
Of course, the June 25 general election turnout in that race was on the order of 26%, with only 1.17 million votes cast. That was far below the 2.25 million votes cast in the January 2010 special election between Martha Coakley, who may be the next governor of Massachusetts, and Scott Brown, who's almost certainly not going to be the next U.S. Senator from New Hampshire. It also was far below the 2.29 million votes cast in the 2010 gubernatorial election.
I'm disturbed that slightly fewer votes were this primary, even with multiple other contested races to draw people in, than were cast in the special election primary last April. I'm concerned it's a harbinger of dismal turnout in November. Dismal turnout usually hurts Democrats, but as we saw with Markey-Gomez, sometimes when it's really, really dismal it means Republicans stayed home too.
Fit to be tied: As has been hinted throughout this post, in a surprising number of towns two Democratic candidates for governor received the exact same number of votes this primary. In ascending order of unlikeliness:
Gosnold: As previously mentioned, Coakley and Grossman each received 3 votes. Berwick blew them away with 4.

Hawley: Grossman and Berwick each received 8 votes, Coakley 23.

Rowe: Grossman and Berwick each received 11 votes, Coakley only 7.

Tyringham: Grossman and Berwick each received 14, Coakley 25.

Lanesboro: Coakley and Berwick each received 54, Grossman 44.

Buckland: Coakley and Berwick each received 69 votes, Grossman 46.

Lakeville: Coakley and Grossman each received 191 votes, Berwick 84.

Lunenberg: Coakley and Grossman each received 241 votes, Berwick 99.

Southboro: Coakley and Grossman each received 257 votes, Berwick 177.

Billerica: Coakley and Grossman each received 1,127 votes, Berwick 425.
I'm really impressed by Billerica. It's not every day you see two candidates in an exact tie with over 1,000 votes each.
Oh, wait, there was one other tie…
Pitching a shutout:The town of Monroe, along the Vermont border, is very pretty and very sparsely populated. Most of the time, it seems, it's very politically divided as well. Coakley beat Scott Brown by one vote there in 2010, with one vote going to the libertarian. Brown stormed back to edge Elizabeth Warren by one vote in 2012. Charlie Baker beat Deval by the huge margin of two votes in 2010.

This time Monroe, which had the distinction of the smallest vote count in the Democratic primary, had no such internal conflict. It's in the Coakley Corner and all five votes (yes, five) cast in town were cast for the local girl. Grossman and Berwick: goose egg. Dr. Berwick also was shut out in Tolland, on the Connecticut border, where Coakley beat Grossman 11 to 7.
All told, eleven towns had two candidates tied. Coakley and Grossman – 5, Grossman and Berwick – 4, Coakley and Berwick – 2. In seven of the eleven (noted in blue), the tie was for first place. In the others – like Monroe – it was for, ahem, second.
In addition to the eleven ties, there were a fair number of towns with candidates separated by only one or two votes. You'll have to look them up yourself.
Anybody's ballgame: In raw votes it's almost impossible to beat Gosnold's 4-3-3 split for closeness. But due to the small sample size the percentages are skewed. The town with the smallest spread between first and third in terms of percentage was Harmony's Needham: Coakley 33.9% (1,254), Berwick 33.5% (1,236), Grossman 32.6% (1,204).
That's close!
Joining Needham in the candidate-bunching winner's circle are:
2. Mark Bail's Granby: Coakley 34.2% (140), Berwick 34.0% (139-told you there were towns with 1-vote differentials!), Grossman 31.8% (130).
3. New Marlboro: Berwick 35.6% (37), Coakley 32.7% (34), Grossman 31.7% (33-another 1-vote difference).
Honorable mention to the much larger Easthampton: Coakley 35.1% (478), Berwick 34.0% (463), Grossman 30.9% (420).
What's up with Upton?: In all of maps I generated, the town of Upton just next to Hopkinton and Milford stood out like a sore thumb. According to WBUR's numbers, Berwick did very well there (in fact, won an outright majority) despite getting crushed in all the neighboring towns. It's the only town in the area where Berwick did great and both Coakley and Grossman did badly. This was so strange I wasn't WBUR's numbers were accurate, so I went to the town's website. Sure enough (sorry for having doubted you, WBUR), Berwick took almost 57% of the vote there.
Upton is very nice, but it is not to my knowledge a liberal bastion. Gomez beat Markey there 59-40, Brown beat Warren 61-39. You get the point. Deval won there in the 2006 primary, but by no more than he did anywhere else.
I wonder what caused this? A super-organizer there? Something in the water? Did Berwick save someone's life there or save a clinic? Anyone with any ideas or knowledge, please clue me in.
**********************
And that, folks, was our 2014 Massachusetts Democratic Gubernatorial Primary, by the numbers. Prior to September 9, I had a vague notion of doing something with the Attorney General's race. But with a map that looks like this: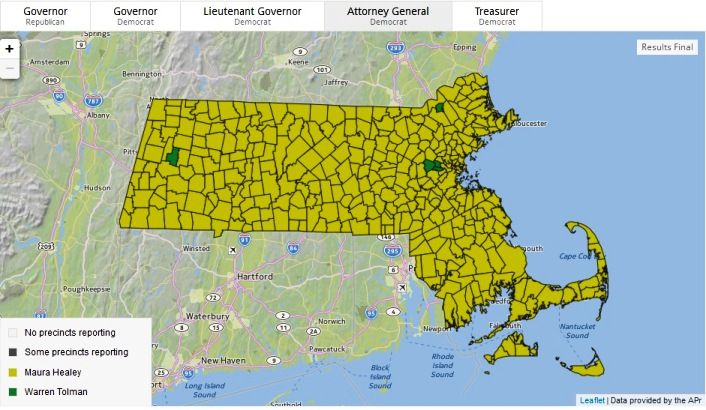 There's not much to do except offer congratulations to Maura Healey for an overwhelming victory.