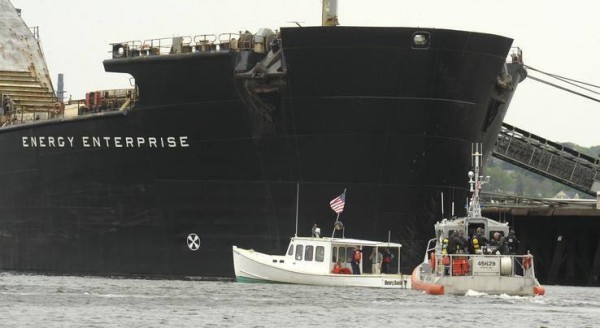 Authorities wants to put two anti-coal activists in prison for the crime of trying to stop climate change, reports the AP's Philip Marcelo:
Environmental activists Ken Ward and Jonathan ''Jay'' O'Hara say they don't intend to dispute many of the facts of the case during their jury trial, which opens Sept. 8 in Fall River District Court. Instead, they want to prove that global warming is real and that bold action is needed to stabilize the planet, according to their website, LobsterBoatBlockade.org.

The two are charged with disturbing the peace, conspiracy, failure to act to avoid a collision, and negligent operation of a motor vessel for the May 2013 incident at the Brayton Point Power Station in Somerset. […]

The defendants say they face months, if not years, in prison if convicted. A spokesman for the Bristol district attorney's office declined to comment.
The protest delayed one shipment of coal for one day. That's worth "years" in prison?
From start to finish, the Brayton Point protest has been met with embarrassing overreaction and wastes of taxpayer money from local government. The police chief in sleepy Somerset spent $30,000 on riot gear specifically for the peaceful protest and had his officers pose for media looking ready for war while brandishing billy clubs.
How is the public's safety enhanced by trying to imprison these activists? Was Big Coal in danger of scratching its anchor? The only message being sent here is that DISSENT WILL NOT BE TOLERATED, even if the status quo is steering us towards catastrophe.
Bristol County DA Samuel Sutter should drop these charges.
UPDATE: The DA dropped the charges! It turns out Sam Sutter is wicked awesome.