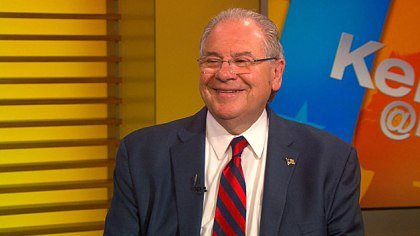 Massachusetts Democrats seem used to having low standards of their legislative leaders, but this is truly extraordinary: Robert DeLeo, our Democratic House Speaker, is publicly saying he may turn his back on the candidate for governor selected by the voters of the Massachusetts Democratic Party and instead endorse the Republican candidate.
From WBZ's Jon Keller @ Large on May 21:
Keller: Are you prepared to commit to supporting the Democratic nominee for governor?

DeLeo: I think I wanna see exactly who that nominee will be. I still think it's a little bit early, in terms of thinking about next year's race. So right now I just wanna see, wait and see attitude.
So, Massachusetts Democratic voters: The candidate you pick, and give money to, and knock on doors for, and ask your friends to support? One of your party's top elected officials may be on the other side, working to undermine you and your candidate. Maybe! Wait and see attitude!
When Gov. Charlie Baker's popularity is discussed, a factor that's often left out is that *clears throat* DEMOCRATS KEEP PUBLICLY TELLING VOTERS THEY SHOULD LOVE THEIR REPUBLICAN GOVERNOR. There's the constantly-publicized bromance between Baker and Boston Mayor Marty Walsh. Rep. Katherine Clark, rather than highlighting Baker's failures to solve our transit and revenue crises, told the Boston Globe that Baker is a "hard worker … a really nice guy." And now we have DeLeo.
This isn't just a Massachusetts issue. National Democrats should be trying to defeat Baker in 2018 before he raises his sights. If Baker keeps riding this wave, buoyed by Democrats, could he flip red what should be a safely blue U.S. Senate seat? What about a spot on a presidential ticket?
Some local Democrats endorsed Baker in 2014, including Gloucester Mayor Caroyln Kirk and Quincy Mayor Thomas Koch. (The Boston Globe, whose "liberal" reputation belies its actual centrism, also endorsed Baker.)
But DeLeo, one of the state's top Democrats, openly flirting with a Baker endorsement takes the question of what it means to be a Democrat in Massachusetts to a whole new level. (And let's face it, no endorsement would be the same as endorsing Baker.) What does it send to voters about how much Democratic party leaders actually believe in their own party that DeLeo would publicly discuss the possibility?
There's no Democratic candidate in the race who's patently offensive. Shouldn't our party's leaders commit to supporting the candidate that Democratic voters select?
The reality is that in Massachusetts, while many of our elected officials are actual progressive or left-center Democrats, others are centrist "Democrats" much more closely aligned with wealthy and corporate elites than with working- and middle-class voters.
What Speaker DeLeo is tacitly admitting here is that his politics may be more closely aligned with Republican Gov. Charlie Baker than with Democratic voters.
If he won't support the candidate chosen by Democratic voters, why should Democratic voters support DeLeo as our Democratic Speaker?