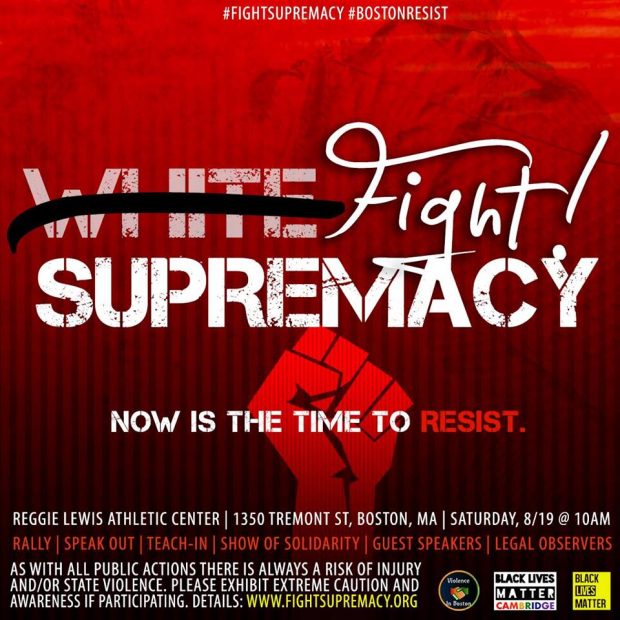 The Nazis are coming to town, without pulling a permit. The organized resistance includes legal observers, marshals, and a march to the common. The details available as of today are as follows: Please promote this event to your networks.
Donate at youcaring.com/fightsupremacy
******Q&A******
Q: Will this be safe?
A: As with all public actions there is always a risk of injury and/or state violence. Please exhibit extreme caution and awareness if participating. We can not ensure safety at this event, however we will have visibly identifiable marshals and safety teams on site, as well as legal observers.
Q: What's the point? You can't talk sense into a Nazi.
A: Resistance takes many forms. One of those forms is counter-protest. Counter-protests send a message to white supremacists that their hateful rhetoric, physical violence, and fear mongering will not go uncontested. It's also a show of solidarity and an opportunity for allies to "show up" and wield their privilege.
Q: I can't attend. How else can I support?
A: You can donate to local Black and queer individuals or organizations in your area. And you can donate to the organizers of this march by visiting youcaring.com/fightsupremacy. Additionally, we ask that individuals continue to amplify the voices and needs of Black and queer communities, which includes sharing events like this among your networks.
Q: Are the organizers of this event committed to non-violence?
A: The organizers of this event are committed to survival and protecting marginalized communities.
Ask additional questions below or call: 617-652-0151 or email violenceinboston@gmail.com or BLMcCambridge@gmail.com
#FightSupremacy #BostonResist
No automatic alt text available.