Today's Democratic State Convention was a disappointment, and it's not the first time. After spending the better part of a February Saturday getting elected, and a June Saturday inside the DCU center, I have to say we need to start thinking about some much needed improvements.
First, the convention is an entirely different experience, depending upon your delegation (and their assigned seats). And there are stark differences between seats. If you are attending an arena football game, you would have paid $72 for the front row seats in the 100 sections occupied by Worcester & Norfolk, First Essex and Suffolk, Hampshire Franklin & Worcester, and First Middlesex & Norfolk. The back of Section 207, home of Fourth Middlesex, those tickets go for $7.
That difference is between the 100s sections and the rafters. There are no floor seats in arena football, so we can't calculate the value of those seats, but certainly a good floor seat have value beyond the best seats in the 100s.
If you are on the floor, or close to it, the convention is an interactive process. You get visits from interesting folks, you get to watch various political celebrities, and folks put a mix of interesting stuff and worthless litter on your chairs. In the $7 seats, not so much.
The $7 seats are also accessed by steep and treacherous stairs that have a generous rise to make up for what they lack in run. Tellers and whips were on wobbly footing during the roll call up in mountain goat territory.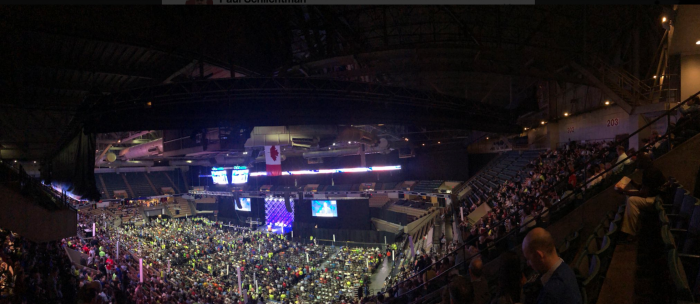 "What did we do to deserve this?"
From our $7 seats in Section 207, the conversation was, "What did we do to deserve this?" It certainly wasn't the first time Fourth Middlesex was in a different zip code from the podium. At the last nominating convention, in 2014, Fourth Middlesex had the $7 view from the opposite end of the rafters, Section 227.
So, how do we have a convention when we don't have this kind of extreme disparity in the quality of the experience? We're the party of equity, of shared experience. We're not the party of extremes, of haves and have nots.
The 2015 issues campaign in Springfield, on the same date as the New Hampshire convention in Manchester, when all the candidates were in New Hampshire and Massachusetts got the second tier surrogates. We couldn't even get the struggling Martin O'Malley to visit, he sent Boston City Councilor Matt O'Malley in his place.
So, for 2019, can we have a convention that attracts some 2020 presidential contenders, and where everyone has a decent seat in the general vicinity of all the action?