Unsurprisingly, billionaires and Wall Street legacy interests, even the politically-moderate ones, are pushing back on Elizabeth Warren's proposed wealth tax. And in so doing, they're providing her with publicity money can't buy: What sounds dire to them is music to our ears.
There are a list of embedded assumptions — sometimes explicit — in their arguments:
Things are working mostly fine;
Billionaires deserve their wealth, which they have achieved through hard work; and not via, say, ruthless greed, blind luck, or monopolistic practices.
Billionaires do a lot of good with their idiosyncratic philanthropies; and are more effective at spending their money than government would be; that their priorities for spending their wealth are by definition better.
Under such assumptions one can imagine why a shakeup of the status quo, big structural change, would be unwelcome. We, of course, are under no obligation to share these assumptions.
Old Obama car czar Steven Rattner sounds the alarm on behalf of the status-quo Wall Street donor class; and he's rather explicit about thinking that mostly things are fine — we just need some tweaks:
Left to her own devices, she would extend the reach and weight of the federal government far further into the economy than anything even President Franklin Roosevelt imagined, effectively abandoning the limited-government model that has mostly served us well.

Ms. Warren may call herself a capitalist, but her panoply of minutely detailed plans suggests otherwise. She would turn America's uniquely successful public-private relationship into a dirigiste, European-style system. If you want to live in France (economically), Elizabeth Warren should be your candidate.
"mostly served us well" … "uniquely successful public-private relationship" … These phrases are, as they say, doing a lot of work. Except for the failures, we've been very successful! Even under Obamacare, we still spend more than any other country on healthcare, without covering everyone. We facing the ruination of our very own ecosystem, which sustains all life. These are market and political failures, and they are not a coincidence; they are the result of the crushing influence of wealth in our politics. It is a telling admission that Rattner evades or minimizes Warren's strongest arguments. He is trying very hard not to understand.
Politicians are not leaders; they are followers. Warren didn't just come out of nowhere, after all. She is not a natural politician; she was drafted to run for Senate in 2011. Her campaign's strength is based on our lived reality, the fact that huge areas of the economy have failed and endanger us.
And Rattner's supposedly grim warning actually sounds like a roadmap to a much better, more just country. At least we understand each other!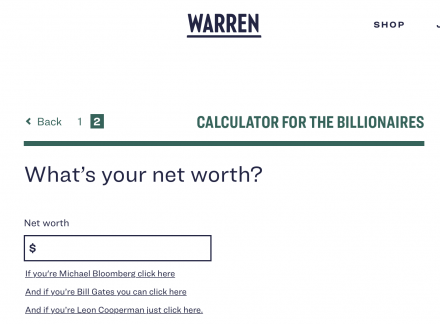 Next we find Bill Gates complaining he'll have to do some math to find out how much he'll have left after Warren's tax — and refusing to say he'd support her, even versus the complete demolition of our Republic at the hands of Trump. Warren has helpfully put up a wealth tax calculator at her site — including a special link for Bill Gates. Gates is worth $107 billion, most of which was created via monopolistic practices which killed off swaths of tech innovation for a generation; it wasn't due to the overwhelming merit of MS-DOS vs. all comers. Gates has done genuine good — and some eccentric and unhelpful things — with his philanthropy; but you don't get to be that rich without really loving money. He is a splendid argument for a wealth tax. (Now do the Kochs, Professor Warren.)
Finally, let's catch the tone of a column by the American Enterprise Institute's Michael Strain:
For one, [checking billionaires' political power via a wealth tax] won't work. You need a lot less than $50 million to be politically influential. And influence is much more diffuse than the plan's advocates seem to think.

Warren's wealth tax would be an abuse of government power. It is the tax-code equivalent of looting mansions. What is wrong with the way these 75,000 families made their money? Why should we have special tax rules for a tiny fraction — 0.06% — of households?

Paying taxes is not a punishment, and the tax code should not be used to penalize any group of citizens. Not even the very rich.
"Looting mansions"! "Punishment"! There are things that keep me up at night, but the somewhat diminished fortunes of the insanely wealthy are not among them. As you were, O Soul.
And is there any question of the dire political power of the billionaire Kochs, Mercers, and Adelsons (et al)? Yes indeed, there's a big difference between the political influence of "ordinary" wealth, vs. immense, plutocratic, dark-money wealth. The former is merely corrupt legal bribery; the latter creates its own gravitational black hole, where reality itself is warped.
As I write this, it seems that Michael Bloomberg has jumped into the Democratic primary, as if we were all just waiting for him. The billionaires and their courtiers seem to think that it's still the year 1999 and the stock market is booming, and the wealthy are admired. It is true that wealth was not as resented back then; it rather is now. A crushing recession and an existential crisis will do that. But our billionaires are slow in reading the room. Things are different now. Great fortunes have been hoarded; and the vast majority of the public is not allowed a part in that prosperity. We've got things we could do with that money, like granting future generations a chance at a dignified life. And democracy is in danger.
Meanwhile, they're doing Warren an immense favor in free publicity. Here's hoping they keep it up!
Addendum: The New York Times editorialized in agreement today — it's a good read that takes on Gates's objections directly.