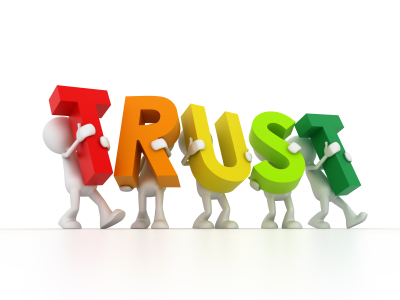 The 2016 election polls showed Hillary Clinton beating Trump handily. This is an old story, but worth a closer look.
David Shor spoke about this on the Bill Maher show. Shor is the shy, self effacing boy genius who entered college at 13, and at 20 was a lead pollster for Barack Obama's reelection campaign. Shor was fired from Civis Analytics in 2020 over a tweet. He now serves as head of data science at Open Labs.
"The big, fundamental reason why polls are wrong – everyone wants to talk about the undecideds breaking, or turnout," Shor says, "but it's actually that the survey takers are super, super weird. That's the big problem."
What does that mean?
"The biggest thing, looking at 2016, is something called social trust. Social scientists ask, do you think people can be generally trusted? Or do you think people should think for themselves?
"Most people say that people can't be trusted – something like 60, 70 percent of people. But the few people who do trust the people around them, unsurprisingly, are way more likely to answer phone surveys… You're getting trusting people, you get nice people. We've done personality tests. Such people are way more agreeable – the kind of people who stop what they're doing, and say 'Oh, a researcher wants to know my views on contemporary events, oh my God!'
"This has always been true. People with low social trust would never answer phone surveys. But it used to just don't matter. It used to be that politics was a fight about whether taxes should be higher or lower. And Donald Trump changed that. He changed what it means to be a Republican.
"So, suddenly, when you look among people who trust their neighbors, that group swung to Clinton, by  five or six points…

"But there was this silent, hidden majority of people who did not trust people around them, and weren't answering phone. Those people – disproportionately, white working class voters who lived in the Mid West. That's the big reason why mid west polls were wrong.
"In 2016, the states were wrong, but at least the national polls were about right. 2020 was way worse. National polls were off by three or four points.
"And the reason, is, basically, the coronavirus.
"When we do our surveys, we join them to the voter file, and we could see, starting in March, that the percentage of people who answered surveys who were Democrat just shot up. The reason was that Democrats were stuck at home. They respected the lock down.
"You can tell with creepy cell phone surveillance data that Democrats were staying home, ad Republicans were out partying and doing Spring break [laughter].
"And those Democrats were desperately answering every survey they could find. And that's why the surveys were wrong."
Bill Maher is asking him what was the biggest surprise of 2020 – why did Trump do better with minorities?
"I think the big surprise", David Shor says, "in 2016, Trump did better with non white voters than Barack Obama did. And a lot of people were ready to write that off. It was Barack Obama, there were lots of reasons he did well with non white voters.
"But in 2018, this should have really been a warning sign. Non white voters trended against Democrats, while white voters trended toward. This was really consequential. We lost the Georgia Governor race. If Stacey Abrams had done as well among Black voters as Hillary Clinton did, she would have been Governor right now.
"2020 was a continuation of that trend. That was the thing that was most surprising to me. A lot of people did not see it coming. Just to run through it, Hispanic voters swung nine percentage points against Democrats. That means one in ten Hispanic voters switched their vote. Black voters, it wasn't that large, but it was two three percent shift. Asian voters, it wasn't that large, the data is still out, but it seems it was at least a five, six percent shift."
Bill Maher asks him if he believes most voters are not Liberal, even among Democrats.
"Among Democrats", David Shor says, "it's roughly fifty-fifty. I think the big difference, when you look at ideology, is that among white people, about 90 percent of Liberals vote for Democrats, and about 80 percent of Conservatives vote for Republicans.
"But with non white voters, it's not like that. And the reason is – this is just arithmetic. Ideology doesn't vary very much by race. Roughly the same number of white, Black, Hispanic voters identify as Liberal, Moderate or Conservative.
"But partisanship varies a lot. And the reason for why is that Democrats have done really well with non white Conservatives. The story of 2020 is that Democrats used to win Hispanic Conservatives by double digits, and this time Trump won them by double digits."
Bill Maher asks him if he thinks that woke and Liberal are now two different wings of the party.
"I think the core problem, as the party has become more educated", David Shor says, "-educated people have increasingly defined the core of the Democratic Party. One thing I like to say is a- a lot of people say it's a truism in politics – that Democrats are too wonky, we're eggheads, we talk too much about issues, we need to communicate our values.
"But the median voter does not share our values. Our values are weird, and alien If they had our values, they would be Liberals.
"The only way Democrats historically won elections was by talking about concrete issues that people agreed with. That's how Bill Clinton won. And it's how Barack Obama won. I think that was one of Joe Biden's strengths."
Bill Maher asks – what are these values that the average voter does not share.
"To go back to the polling thing – social trust is a big one. Liberals actually trust government. They trust society. They really believe in positive sum change, and the potential for positive sum interactions. But also, racial resentment. Attitudes toward gender. What kind of society do people want to live in. What kind of neighborhoods people want to live in. Liberals like to live in exciting, tightly packed cities.
"From a personality perspective, scientists like to study the five factor personality model. Openness to new experiences – this idea of how people respond to novel stimuli. It's highly correlated with liberalism.
"Some people, when they see a new ethnic restaurant, they get really excited, and energized. But a lot of people, the majority of people, see novel stimuli, and it drains them. It makes them freak out. And that's why there's this big geographic sorting."
Bill Maher asks – we seem we're about to enter a new era of re-segregation that is coming from the Left. On many college campuses, there are separate Black dorms, graduations and ceremonies. How will that affect elections in the future?
"There are a lot of studies – a study out of North Carolina", David Shor says, "showing that racially integrated schools make people more liberal.
"The important thing, to go back, is to realize that most non white voters don't identify as Liberal. We should take that really seriously. Realizing that most voters don't share our values means we should instead meet people where they are, with values they actually hold, and issues they really care about."
What do others say
Nate Cohn reports on polls at the New York Times. Here he writes on why 2016 and 2020 polls were wrong:
The conventional wisdom among pollsters, after 2016, had been that polls can be fixed by accounting for the education degree of the responders. Which they did in 2020, and that resulted in polls that were even more far off. The stay-at-home effect compounded with refusal by non-trusting people to participate in phone surveys.
The loss of trust
Political polls have a particular role in our democracy. They are not used to bridge differences, heal deep fractures, and help us get to a more perfect union…  Instead, they are used to run election campaigns.
But, to build that more perfect union, we have to build trust – among ourselves, and in our democratic institutions.
This is not something David Shor is talking about. For him, it's a matter of reaching out to gauge people accurately.
How loss of trust realigned the left/right political divide
Francis Fukuyama writes that politics has shifted in the past years. We are experiencing a democratic recession – not just around the world, where it was originally observed, but within the United States.
"In the twentieth century, politics was characterized by an ideological divide between a left and a right defined largely in economic terms, with the former demanding greater socioeconomic equality and a redistributive state, while the latter favored individual freedom and strong economic growth. Today the axis is shifting toward a politics based on identity. As part of this change, both the left and the right are redefining their own objectives," Francis Fukuyama says.
"The psychological basis of identity politics lies in the feelings of humans that they possess an inner worth or dignity which the society around them is failing to recognize. The underappreciated identity may be unique to an individual, but more often it flows from membership in a group, particularly one that has suffered some form of marginalization or disrespect. Identity is intimately linked to emotions of pride, anger, and resentment based on the kind of recognition that one receives (or does not receive). Although perceived economic injustices may stimulate the demand for recognition, this drive is distinct from the material motives that impel homo economicus, and can often lead to actions that run counter to economic self-interest conventionally understood."
This is a reorientation that happened not just on the right, with the 'America first' slogan of Trump – but, also, on the left.
"While the twentieth-century left, whether communist, socialist, or social-democratic, promoted the interests of the broad working class, today's left is more likely to champion specific identity groups such as racial minorities, immigrants, women, people with disabilities, sexual minorities, indigenous peoples, and so forth. An accompanying idea is that since each of these groups was marginalized in specific ways, remedies need to be tailored to each group. Over time, these group identities have often come to be seen as essential characteristics of their members, defining them at the expense of their individual identities. This ideological shift has had political consequences: Rather than focusing on the old working class and its trade unions (the great majority of whose members tended to belong to the dominant ethnic or racial group), leftist parties in the United States and other developed democracies now see themselves as representing the interests of various minorities. An upshot of this drift away from the old working class has been the movement of voters belonging to that class away from traditional left-wing parties and toward newer populist forces.
"A similar transformation has been occurring on the right. Twentieth-century conservative parties defended free markets and individual rights, often with the backing of business interests that supported free trade and welcomed immigrants. That old right is now being displaced by one that emphasizes a traditional kind of ethnically based national identity and worries that "our country" is being taken over by a cabal of immigrants, foreign competitors, and elites who are complicit in the theft."
This shift is a wave that goes cross border, and is seen not just in the United States, but in Orban's Hungary, Putin's Russia, and in countries like the UK, France, Italy.
One underlying reason – and why this shift is hard to revert – is that, in a social media world, information flows differently.
"Among the hierarchies disrupted by the internet was the one formed by the "legacy media" in democratic countries—media organizations working in print, radio, and television that had over time developed journalistic standards for vetting and verifying information. The rise of Google and Facebook undermined the old media's business model, and today it is not clear what economic incentives there are to provide reliable news to broad democratic publics.
"The tendency of the new identity politics in both its leftist and rightist varieties has been to fragment societies into ever smaller identity groups. In many ways, social media are perfectly suited to facilitate this decomposition of society. They permit like-minded individuals to find one another, not just in their own nations but around the world, while simultaneously shutting out criticism and disagreement. On the left, sexual politics and "intersectionality" have led to the proliferation of distinct and sometimes mutually hostile identities, while on the right we have discovered the existence of communities such as "incels" (involuntarily celibate males) and of new vocabularies and symbols by which white nationalists can identify one another. Promoting all this have been external actors such as Russia, which seems less interested in recommending its own political model than in heightening distrust and division within Western societies.
"It would be wrong", Francis Fukuyama says, "to attribute growing social fragmentation simply to the rise of the internet, or to Russian policy. The decline in the authority of traditional social institutions began before the year 1990 and has been growing ever since. These institutions consist not just of governments, but the full range of mediating social structures, including political parties, business corporations, labor unions, churches, families, media outlets, voluntary organizations, and the like. This phenomenon was first noted in the Journal of Democracy by Robert D. Putnam, who published his widely read "Bowling Alone" essay in these pages in 1995. Survey data capture the decline as well, showing how trust in these institutions has fallen over time. While the declines vary by institution and by country, the overall shrinkage in trust is strikingly cross-national—it appears in place after place throughout the democratic world."
Which brings it back full circle. We are experiencing a crisis of social trust.
So – I'll leave with an open question. What are we doing to strengthen the bonds, build those new social institutions that can hold us together, to bridge these divisions, and rebuild the trust?