Fellow BMGers,
I'm posting here because I wanted you to know that I'm running for state representative, representing my hometown of Brookline.
My good friend Representative Frank Smizik recently announced that he will not be seeking re-election next year. Clearly Brookline's next state representative will have big shoes to fill. As someone who has spent years serving the people of Brookline, both as a Town Meeting Member and Town Constable, and worked closely with Representative Smizik, I want to build on his legacy. I want to add to the energetic and effective progressive voices on Beacon Hill.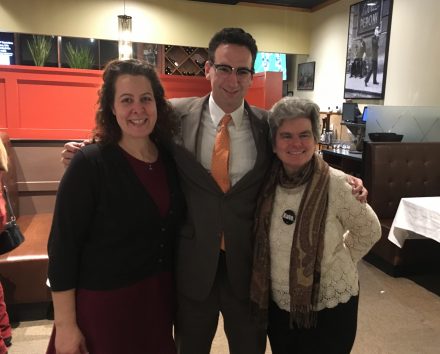 Tommy with friends Lauren and kate in Westborough, Dec 2017
First of all, it means fighting for a set of progressive values. It means promoting social and economic justice, especially by promoting diversity and inclusion and continuing to improve our criminal justice system. It means supporting educators and students from pre-K through college, by keeping education affordable and ensuring we have the resources we need. It means protecting our planet for the next generation, and investing in our clean energy economy.
And second, it means ensuring everyone in Brookline, and indeed the Commonwealth, has the opportunity they need to succeed. I grew up in a working class neighborhood, and my family was never the wealthiest on the block. But I knew from an early age that if I worked hard and got just a few opportunities, there was no limit to what I could achieve. That's why I will be a champion for everyone in our community, from students to workers to retirees.
It has been my honor to serve the people of Brookline in Town Meeting and as Constable, including efforts to reduce the use of dangerous cleaning products in our schools, prevent teen tobacco use, and expand clean energy use in Brookline through a town solar roof program and increasing renewables in our electric mix. That's the kind of work I want to continue in the State House.
It won't be easy. Important things never are. But I look forward to running a grassroots campaign and earning the support of my community. If you're able to help in any way — by donating, volunteering, or spreading the word — you can do so at my campaign website: tommyvitolo.com.
Thank you,
Tommy Vitolo